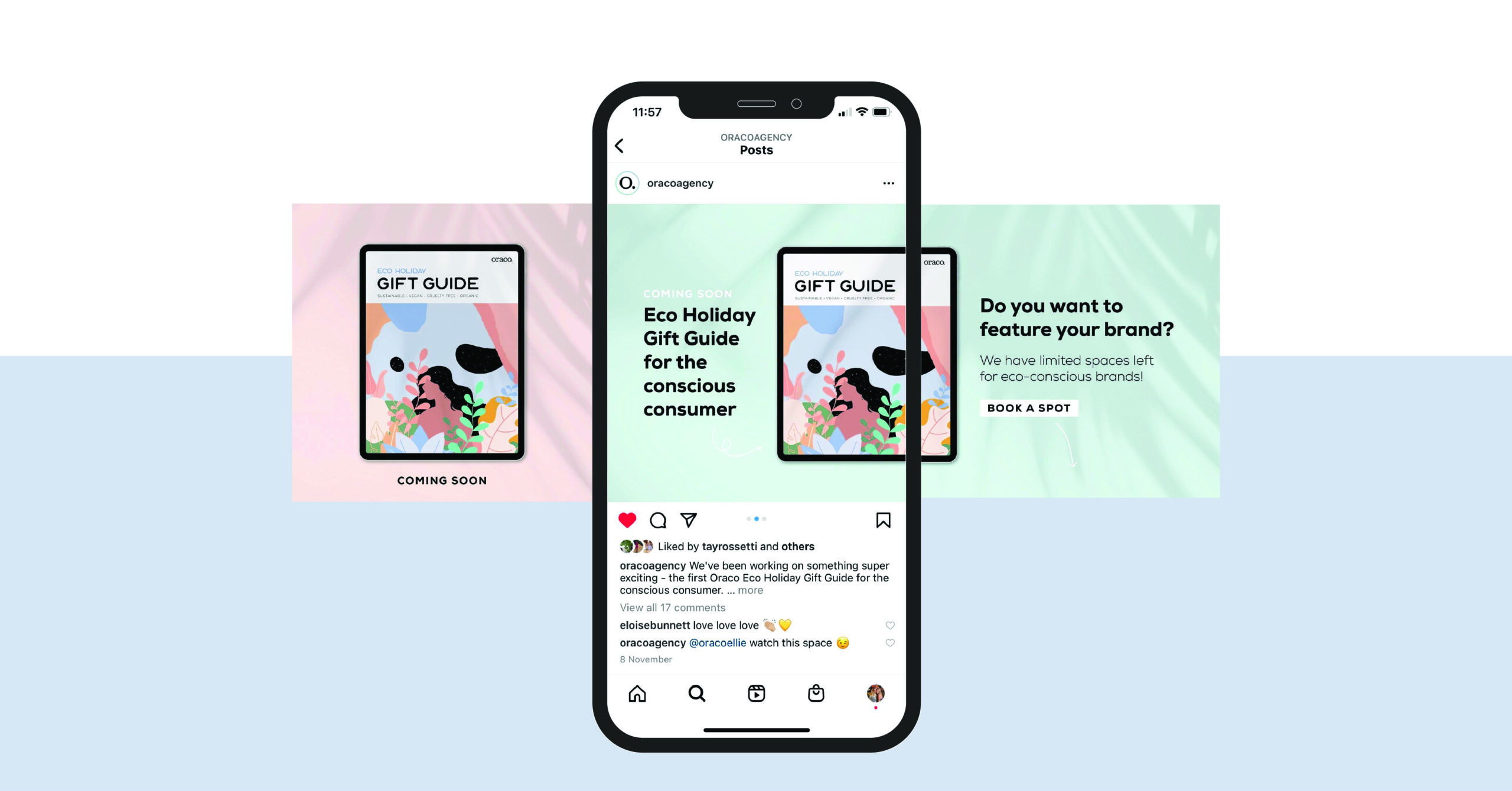 An Instagram carousel post is a great way to create informative and engaging content in your feed. As they are interactive posts with multiple slides, there is potential to be a higher engagement rate as your viewer spends more time on that one post than a static image. This tells the algorithm that your content is engaging and valuable to your audience; therefore, it might choose more of your content to show.
If your audience doesn't engage with your content the first time they see your carousel post, Instagram is likely to display your post later again – this time, showing the second slide instead. This gives your post a second chance to capture the audience's attention and gain engagement.
Are you looking to create the type of content favoured by Instagram? Here are 10 Instagram carousel content ideas you could use today.
1. Highlighting features of a product
Carousel posts allow you to share multiple images and videos in a single post, so why not take advantage of that by showing off numerous product features to capture your audience and highlight some of the benefits of your product?
Using a carousel post, you can show your audience different angles of a product, zoom in on hidden or more minor features or zoom out to capture another angle. This is your chance to show off what's so great about this product!
If your product has more than one way that you can wear or use it, a carousel post is another great way to showcase this. For example, clothing retailers could put together a carousel post of the same shirt being worn in different ways, or a hair care company might add images from customers with a range of different hairstyles to show that it works across various hair types.
View this post on Instagram
2. Creating a before and after
Instagram carousel posts are the perfect way to show off those before and after photos! Instead of splitting a single image into two, you can utilise the whole tile to help show off the transformation. Whether this is showing off a product, service or maybe even a DIY project, before and after posts are an excellent opportunity to show your skill to the community.
Are you worried about displaying a "not so aesthetically pleasing" image on your beautifully curated feed? Are you concerned that an unflattering picture may not appear favourably to your business if customers haven't read the caption explaining that it's a "before" shot? We get it. However, don't be afraid to show off your "after" photo first!
View this post on Instagram
3. Tell a story
Everyone loves a good story! There are plenty of stories you can tell within your Instagram carousel post. This could be a timeline of your business and include things like where you came from, images from over the years, previous offices, milestones, team members, product launches and more.
Alternatively, storytelling through Instagram carousel posts can be a powerful way to share something personal. This could be a significant event in your life or a funny story. Storytelling is a great way to humanise your brand and gain community engagement. Don't forget – every story has a beginning, middle and end.
View this post on Instagram
4. Split a landscape
Do you want to upload a landscape-orientated image but feel it doesn't quite capture the results you were after? Why not use a carousel post to split your landscape images?
This can be a creative way to pique interest and encourage your audience to engage with your content. By giving the audience half or a third of the image, you can spark their interest and leave them wanting more. Each slide reveals a hidden part of your image as they swipe through.
View this post on Instagram
View this post on Instagram
5. Showcase your work
What better way to show off some of your great work than with a carousel post?! This could be a series of images showcasing the finished product or even a BTS (behind-the-scenes) sneak peek into the process of creating that work.
By using Instagram carousel posts to showcase your work, you're creating an experience for your audience. As they swipe through, they can build a story behind a piece of work and have it brought to life by the details in your images.
View this post on Instagram
View this post on Instagram
6. Showcase product range – like colour
Do you have an amazing product and want to show off all the amazing colours that it comes in? An Instagram carousel post is your best friend for this! Being able to add multiple images means you can showcase your product's range without having to cram everything into one tile.
You can also feature different products under a particular range, such as an eco-range like Biz Collection has done here:
View this post on Instagram
Here are some other great examples of product range carousel posts:
View this post on Instagram
View this post on Instagram
7. Create a 'photo dump'
A popular trend currently all over Instagram is the 'photo dump' trend. A photo dump is a collection of up to 10 'low effort' images that either has a theme or tell a story. For example, a 'November photo dump' could be a collection of images you took in November.
Currently, the hashtag '#photodump' has over 2.3M posts! We created our very own "Oraco photo dump" after our Christmas party and got some great results from our followers.
View this post on Instagram
8. Educate your audience
Educating your audience on topics that align with your values is a great way to build a community and gain engagement from your audience. These could be topics you're passionate about or a service you provide.
While it is important to utilise your caption for each post, your viewers may not take the time to read everything they scroll past. Using an Instagram carousel post means you can capture your audience's eye mid-scroll. You might take them through '5 quick tips' or educate them on a topic that is important to you. By breaking up the information, there is a higher chance your audience will take in what you have to offer. You can then elaborate on the topic in your caption or point them to a location where they can find out more.
View this post on Instagram
View this post on Instagram
View this post on Instagram
9. Create a 'how to'
An Instagram carousel how-to is a great way to explain a process if it's too long to explain in the caption. This way, you can show your audience step-by-step instructions using text and imagery, maybe even a video!
These post types could be used to show off how to use a feature of your product, how to use a service you offer or even educate them on something in your field. It's also a great opportunity to engage your audience and encourage those likes and saves!
View this post on Instagram
10. Create a catalogue
Since you can include up to ten images in a carousel post, why not create a catalogue of products you offer? This could promote a sale or even highlight your top items. It's also a great way to categorise products into groups to capture your audience and show off your range.
View this post on Instagram
View this post on Instagram
Instagram carousel posts are fantastic ways to drive engagement amongst your audience. You can use this feature in endless ways, including before and after pictures, education pieces, step-by-step guides and many more.
How do you use these types of posts? Send us an Instagram DM and let us know! If you're struggling to create your own carousel posts, contact the Oraco team today.