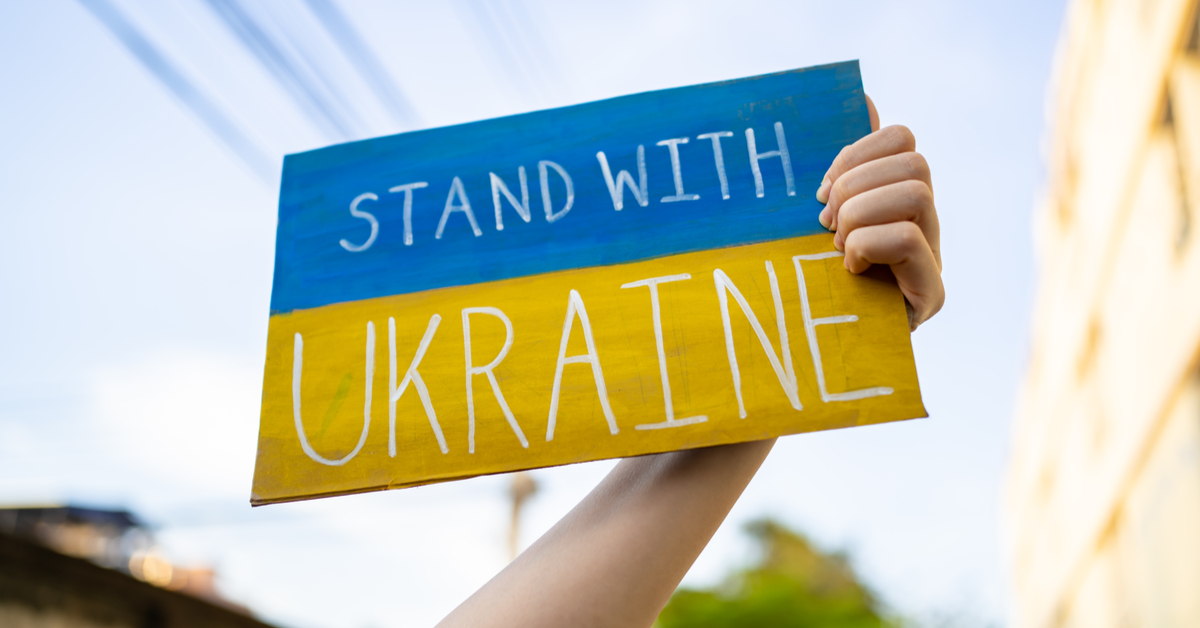 From a global pandemic to unpredictable weather, the world has had its fair share of tragedies over the past few years. However, bad things tend to come in threes. Almost two weeks ago now, devastation hit Ukraine when Vladimir Putin instructed his troops to begin a full-scale invasion. As such, the world has been rocked by international price rises and supply shortages. The emotional toll of this crisis has been felt in waves, especially since the world is only now beginning to recover from the turmoil of COVID-19.
With Russia invading Ukraine, the rumours of World War III became more than a crazy idea. Unlike the previous two world wars, social media is a thing – and a big thing at that. All platforms have varying amounts of power, and each platform has reacted differently to the growing conflict.
Like with any major online issue, how can we tell what's real and what's 'fake' when it comes to large-scale crises such as this? How can we show our support for a conflict on the other side of the world? What role does social media play throughout this war?
It's time to unpack this devastating event and how the world is responding.
How are social media platforms responding?
As Russia's invasion of Ukraine is happening in the age of social media, it is prone to large amounts of misinformation, memes, scams, and heated online debates, which add to the overwhelming situation that's currently unfolding. This information contorts and clouds what is happening in the Eastern Europe region. Due to the role social media plays in disseminating information, these platforms are starting to implement a plan to limit the amount of misinformation spreading and any misuse and abuse of their platform.
Here is what each platform has announced so far:
Meta
Meta (we're still not overly used to Facebook's new name) have taken action across their owned businesses (Facebook, Instagram, WhatsApp). With 70 million Facebook users in Russia and 34 million in Ukraine, these users make up roughly half of each nation.
The Russian government announced it would restrict access to Facebook due to Meta's refusal to remove warning labels on posts from state-affiliated media. They have also gone as far as banning ads from Russian state media and demonetising these accounts. However, Russia has its own social media platforms and messaging tools to communicate its activities and motivations. This includes pro-Kremlin propaganda and messaging supporting the war.
Meta has also added warnings to posts representing Russian state-controlled media outlets so that any user who clicks on these links will be aware. They are demoting content from these Facebook and Instagram accounts as much as possible.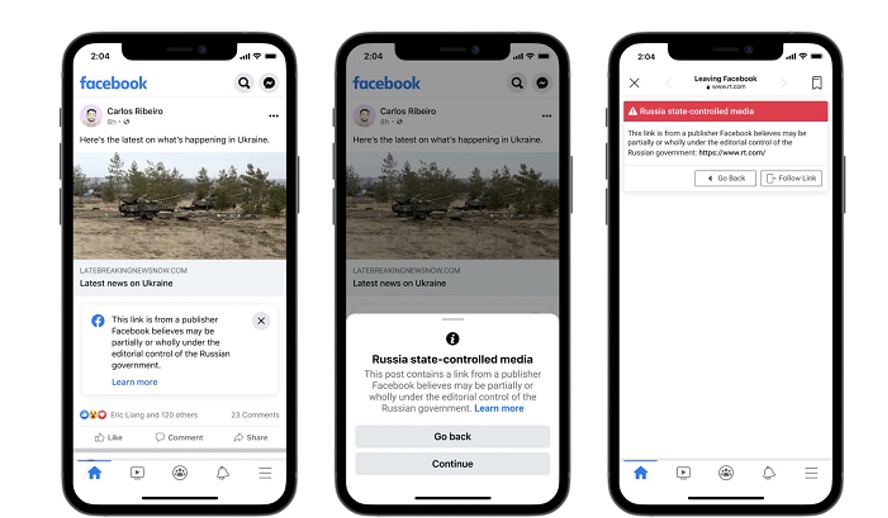 Image source: Social Media Today
YouTube
Over on YouTube, the Ukrainian government requested the restriction of Russian state-owned media outlets. This includes restricting access to RT – a Russian state-controlled television network, and other channels in Ukraine.
YouTube is currently moving to block all channels connected to Russian state-backed media outlets. A spokesperson said:
"As always, our teams are continuing to monitor closely for news developments, including evaluating what any new sanctions and export controls may mean for YouTube." 
Twitter
Like Meta, Twitter is adding labels to any posts that share links to Russian state-affiliated media websites while simultaneously taking steps to heavily reduce the circulation of this content across its platform.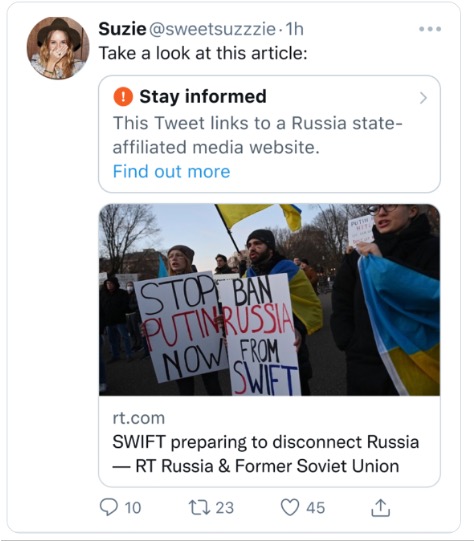 Image source: Twitter, @yoyoel
TikTok
TikTok has geo-blocked content from Russian state-affiliated media outlets for users in the EU. They were also in a bit of strife earlier in the crisis when a video of a parachuting soldier went viral.
While the video had no text to suggest when or where it was taken, it was quickly believed to be live footage of Russia's invasion of Ukraine. Later, it was discovered that this video was actually more than five years old and had been originally shared on Instagram in 2015. It is still unknown where this video is from, but it is said to be a training exercise.
Some TikTok users have spotted an opportunity based on the new monetisation incentives that have been added. Videos sharing distressing footage with fake 'war' sounds over the top are popping up as users attempt to reap the rewards of having a popular clip.
Snapchat
Snapchat has halted all ads running in Russia, Belarus, and Ukraine to facilitate better information flow within the impacted region. It's also pausing ad sales to all Russian and Belarus entities. Aside from taking action to block unwanted or misleading content, Snapchat has pledged over $15 million in humanitarian aid to support organisations in the region while simultaneously working on getting their staff members out of affected areas.
How can we differentiate between real and 'fake' news?  
Many of us rely on social media platforms to provide us with 'news'. While social media accounts aren't always wrong, news often gets sensationalised to draw users in on these platforms. Today, much of our trust in an account or a page and its reliability is based on how many followers they have.
In our minds, the more followers they have, the more reliable a source of information. However, disinformation is constantly circling. Disinformation campaigns aim to distract, confuse, manipulate, and sow division, discord, and uncertainty in the community.
There are a few ways you can spot fake content. These include:
Whether the account uses an existing photo or video and claims it came from a different time or place. This may be through checking how credible the source is and whether they share where they got their content from.
Whether the content is staging or posing actions or events and presenting them as reality.
Checking how reliable the source is.
Conducting a reverse image search via Google to check how recent an image is.
If you're still unsure about the validity of any information you see online, there are various fact-checking websites dedicated to sourcing misinformation. These sites include the Australian Associated Press, Agence France-Presse (AFP) and Bellingcat.
How can we help?
With so much information – some real, some fake – circling, it may be overwhelming to know how you can help – especially when it comes to trusting somewhere asking for money. If you're looking to support an organisation, here are some we've found that together Australians can trust to donate to, to show their support.
As the situation continues to unfold and new developments arise, the Oraco team stands in support of Ukraine. We will do our best to keep our community updated with how social media platforms respond to this ongoing crisis.