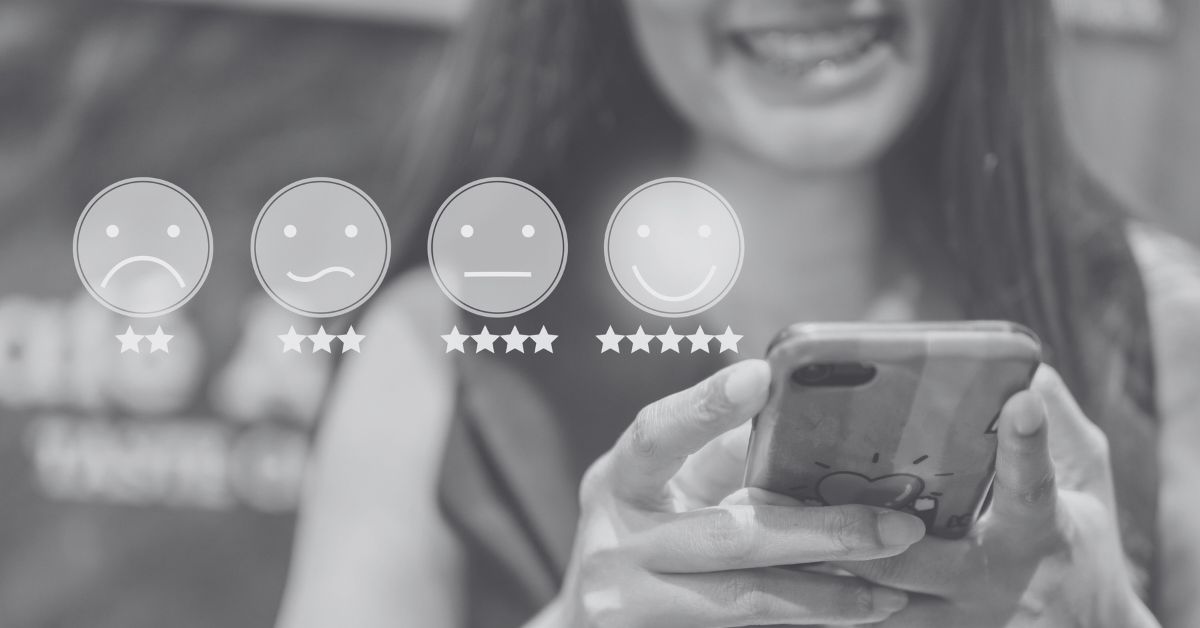 In the business world, social proofing your reputation can have a significant impact on boosting your sales. As a society, we are heavily influenced by what others think – it's part of the reason why influencer marketing is thriving! We love to see what the people we trust the most (sprinkled in with celebs that inspire us) are buying and what they think.
Aside from word-of-mouth marketing, online reviews are a significant catalyst people depend on before purchasing a product or service. If your business wants to boost sales through social proofing, read on for our advice. 
What in the world is social proofing?!
So, social proofing – what exactly is it? Social proofing is the idea that consumers will adapt their behaviour according to what other people are doing. According to Doctor Robert Cialdini, one of the seven principles of persuasion is social proof. He says, "Especially when they are uncertain, people will look to the actions and behaviours of others to determine their own."
This is one of the reasons why influencer marketing is so successful. It's also why we automatically assume somewhere is good if there's a large line out the front – we're looking at you, Lune Croissanterie!
Using social proofing to boost sales
When it comes to using social proofing to boost sales, you can implement a few tactics, including:
Customer testimonials and reviews  
We've spoken at length about how customer reviews and testimonials can boost your brand's reputation. However, they are one of the most significant points of social proof you can have.
Positive feedback from satisfied customers acts as social proof, assuring potential buyers of the quality and reliability of your products or services. Encourage happy customers to leave reviews on platforms like Google, Yelp, or industry-specific review sites. You can also feature testimonials on your website, highlighting the experiences and outcomes customers have achieved through your offerings. By prominently displaying these testimonials, you can influence and persuade potential customers, ultimately boosting sales.
A substantial 98% of Australian customers read online reviews before buying a product and 94% believe these reviews to be trustworthy. Statistics like these go to show that reviews play a significant role in reputation-building and purchasing decisions. To help build your reputation, it's important to be proactive and ask for reviews – even though it may be uncomfortable.
Read our blog, 8 Ways to Grow Your Brand Reputation Online, for more information.
Influencer partnerships 
Again, this is another one we've spoken about. The name says it all – influencers 'influence' people – it's what they're there for. One case study showed that influencer marketing was rated as the fastest-growing online customer acquisition channel, beating organic search, paid search, and email marketing. The figures revealed that businesses make $6.50 for every $1 spent on influencer marketing.
Collaborating with influencers who align with your brand values and target audience can significantly impact your sales. Identify influencers in your industry or niche with engaged followings that interact with their audience. Partnering with these influencers for sponsored content or product endorsements can expose your brand to a broader audience, leveraging their reputation to boost your sales. Ensure the influencers you choose genuinely believe in your products or services and maintain transparency in these partnerships to uphold authenticity and trust.
Read our blog Influencers: How and Why? Are They Right for Your Biz? for more information. 
 Case studies and success stories
Another effective way to utilise your reputation for sales growth is by sharing case studies and success stories. Provide detailed accounts of how your products or services have helped customers overcome challenges or achieve exceptional results. By showcasing real-life examples, you provide tangible evidence of your value.
Highlight key metrics, such as revenue growth, increased customer satisfaction, or time saved, to demonstrate the measurable impact of your offerings. Use multimedia formats like videos, infographics, or blog posts to make these success stories engaging and shareable. When potential customers can see the positive outcomes that others have experienced, they are more likely to trust your brand and make a purchase.
Case studies work exceptionally well for service-based businesses, as they provide their audience with real-life examples of how their service has improved a business or personal problem. Before writing a case study, always ask permission from the person (or company) whose example you're using.
Trust seals and certifications
Trust seals and certifications act as visual cues that enhance your reputation and build trust within your community. By displaying recognisable badges or credentials – prominently on your website or product packaging – you're showing your audience that others have backed your company. This also goes for any awards your business may have won or succeeded in.
Often, visual cues provide reassurance to potential customers that your brand is trustworthy and has met specific standards. One study even found that displaying trust seals increased conversion rates by up to 30%. If you highlight these certifications, ensure they are relevant to your industry and recognised by your target audience.
There are various types of trust seals that can build confidence in consumers, including:
Secure Socket Layer (SSL) certificate
Accepted payment badges
Third-party endorsements
Money-back guarantee badges
Free shipping and returns badge
In a study conducted by ConversionXL Institute, the following trust seals were ranked on how secure a shopper feels online when presented with each badge.
Image source: ConversionXL Institute
Let's take a look at some real-life examples.
In their website footer, sustainable business, The Slow Stitch, display their trust seals to provide shoppers with peace of mind whilst ordering. Seeing trusted payment options available can help security-conscious consumers order with confidence.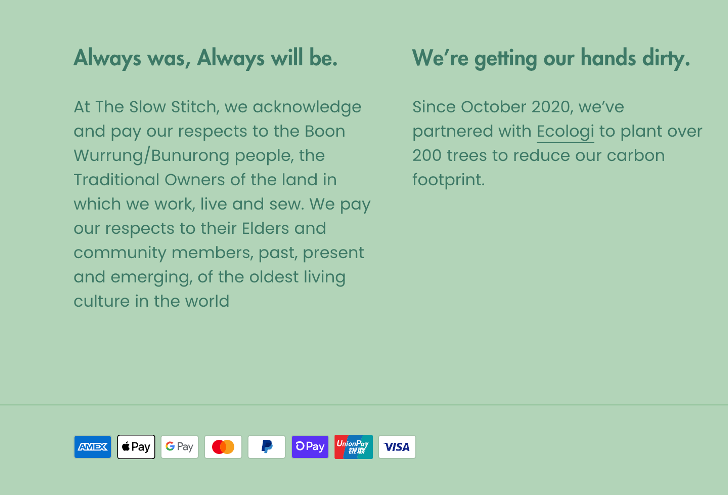 Image source: The Slow Stitch
Payment trust seals aren't the only badges consumers look for. Third-party endorsements – such as the below B-corporation certification – help consumers find brands whose values align with their own. When someone sees a B-corp badge, they know the company have been recognised as leaders in the global movement for an inclusive, equitable, and regenerative economy.

Image source: Who Gives a Crap
Recommendations from friends and family 
Lastly, recommendations from friends and family play another significant part in social proofing. One report found that 83% of consumers say these recommendations make them more likely to purchase a product or service. This is another reason you'll hear us say that nurturing your existing customer base is far more valuable than targeting new customers.
By caring for your existing clientele, you have the opportunity to make a lasting impression that will entice them to spread the word about your business. Suppose one client tells five of their friends about your business, and two of them turn into regular customers. In that case, you're essentially getting new customers without creating flashy campaigns or unique 'new client' offers – it's a win-win!
Leveraging your reputation for sales growth through social proofing is a powerful strategy in today's competitive market. Using customer testimonials, influencer partnerships, case studies, and trust seals, you can showcase your brand's positive experiences and outcomes. Remember to maintain transparency, authenticity, and relevance in your social proofing efforts and continually seek feedback from your customers, adapting your strategies accordingly. By harnessing the power of social proof, you can build trust, credibility and ultimately drive sales growth for your business.
If you're looking to boost your business's sales, get in touch with the Oraco team to discuss social proofing and reputation management today.