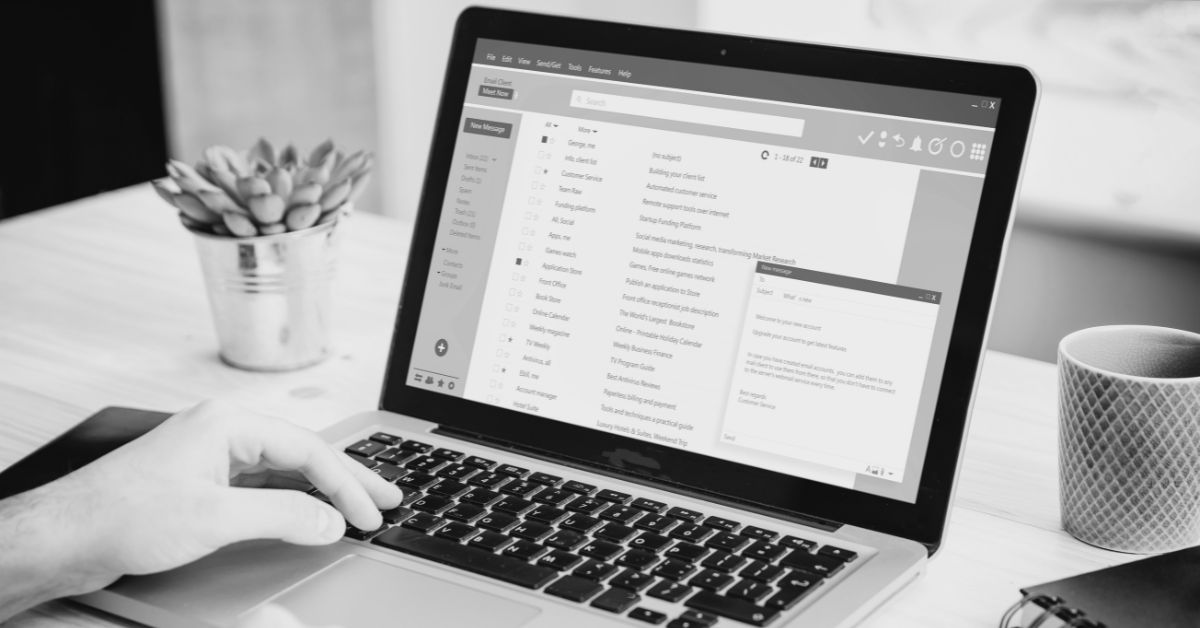 Deciding on an email marketing platform can be as challenging as selecting a snack for movie night. With countless options available, where do you even begin? In today's digital age, email marketing plays a crucial role in any successful marketing strategy. The good news is that while we can't assist you with movie night, we can help you choose the perfect email marketing platform for your business.
In this blog, we'll further examine the varying email marketing software on offer and which one will help your business achieve its goals.
Best overall – Mail Chimp
When it comes to small businesses, MailChimp is undoubtedly a favourite. It offers the necessary features without being overly complex or confusing. This software enables you to schedule campaigns, obtain detailed reports on open rates, click-through rates, and unsubscribe rates.
It also allows you to A/B test copy. A/B split testing is simply a method used to compare two versions to determine which one performs better. As A/B split testing is controlled, you can easily figure out which marketing strategies work the best for your business and its services. And the best part of Mail Chimp? It offers free-forever plans!
What are the pros?
Free service for users with 500 subscribers
Detailed and easy-to-understand reporting
Easy to use drag and drop feature
A/B Testing
What are the cons?
A little bit pricey once exhausting the free plan amount (think popcorn at the cinemas kind of expensive).
Will charge you even for unsubscribed and inactive contacts in your database.
No access to live support unless you have the 'Essentials' plan or higher.
No email scheduling on the free plan.
What's the cost?
Up to 500 subscribers, 1000 emails: $0 per month
Up to 5,000 subscribers: $528.88 AUD max per month
Up to 40,000 subscribers: $1,133.31 AUD max per month
Best for all-in-one marketing – HubSpot
If you're looking for everything in one, HubSpot might be for you. It not only offers email marketing services but also offers plenty more to unite all your marketing efforts such as social media management. HubSpot is an all-in-one marketing, sales and customer relationship management (CRM) software platform.
What are the pros?
Seamlessly intertwines with the rest of your digital marketing, such as social media management, ad tracking, blogging, SEO and live chat.
It all connects directly with the HubSpot CRM, which allows you to follow customers through the entire sales journey.
You can set email automations to contact customers at key points in the funnel
24/7 live chat support.
What are the cons?
While it is a powerful and feature-rich platform, it can be expensive, especially for smaller businesses.
Plans are billed annually, so you have to pay for the complete period even if you terminate early.
You have to pay for additional support, and the mandatory onboarding fee is expensive.
It's not very effective if you don't use it as an all-in-one tool.
Does not offer A/B testing on lower plans.
What's the cost?
Up to 500 subscribers, 1000 emails: $0 per month
Up to 1,000 subscribers: starts at $20 AUD per month
Up to 2,000 subscribers: starts at $1,150 AUD per month
Up to 10,000 subscribers: starts at $5,200 AUD per month
Best for small businesses – MooSend
MooSend is an email marketing automation platform that enables businesses to create, send and automate email campaigns. It provides a range of features such as email templates, drag-and-drop email editor, list segmentation, A/B testing and analytics.
What are the pros?
Features a drag-and-drop email builder, landing page builder, marketing automation and detailed reporting.
Great choice if you require automation workflows at a low cost.
18 templates offered are detailed and varied.
Detailed reporting offers a lot of information, including click maps, geolocation, revenue generated by campaigns and email clients.
What are the cons?
No free plan.
The sign-up templates aren't brilliant.
There's no CRM, and compared to other email services, there aren't many direct integrations with third parties available.
What's the cost?
Up to 500 subscribers, unlimited emails: $9 USD per month
Any other plan requires you to contact MooSend for a quote
Best for customer service support – Campaign Monitor
Campaign Monitor is a solid choice for businesses looking for an email marketing platform with an intuitive interface, analytics tools and excellent customer support. However, it may not be the best fit for companies with complex automation needs and limited budgets.
What are the pros?
Intuitive drag-and-drop email editor makes creating beautiful, professional-looking email campaigns easy.
Advanced list segmentation and personalisation features allow for targeted and relevant email campaigns.
Integrations with a variety of third-party tools, such as CRMs and e-commerce platforms.
Excellent customer support and resources.
What are the cons?
Limited automation features compared to some other email marketing platforms.
pricing can be high for businesses with large email lists.
Some users have reported issues with deliverability and spam filters.
Some users have reported that the interface can be slow and clunky at times.
What's the cost?
Basic package: $9 AUD per month
Unlimited package: $39 AUD per month
Premier package: $199 AUD per month
Best for storing data – Swift Digital
Swift Digital is an email marketing software made in Australia, with data stored securely in Australia as well. This software also covers automation across different marketing channels such as events, SMS and surveys. This platform also offers custom training, support and one-on-one account management.
What are the pros?
Australian-based (APP compliant, with local, state and federal customers).
Custom, live account management and support.
Strong automation features across multiple communication channels.
What are the cons?
You may have more to learn due to multi-channel marketing tools.
Live support is only available during Australian work hours.
It does not replace the need for CRM.
No free plans/free trial available.
What's the cost?
Starting price: $2,988 AUD annually
Choosing email marketing software can be overwhelming, and your business needs to weigh up your goals and find the best one that suits them.
With this comparison, we hope we have helped ease the decision. To learn more about how your business can get the best out of email marketing, contact our team via DM today!