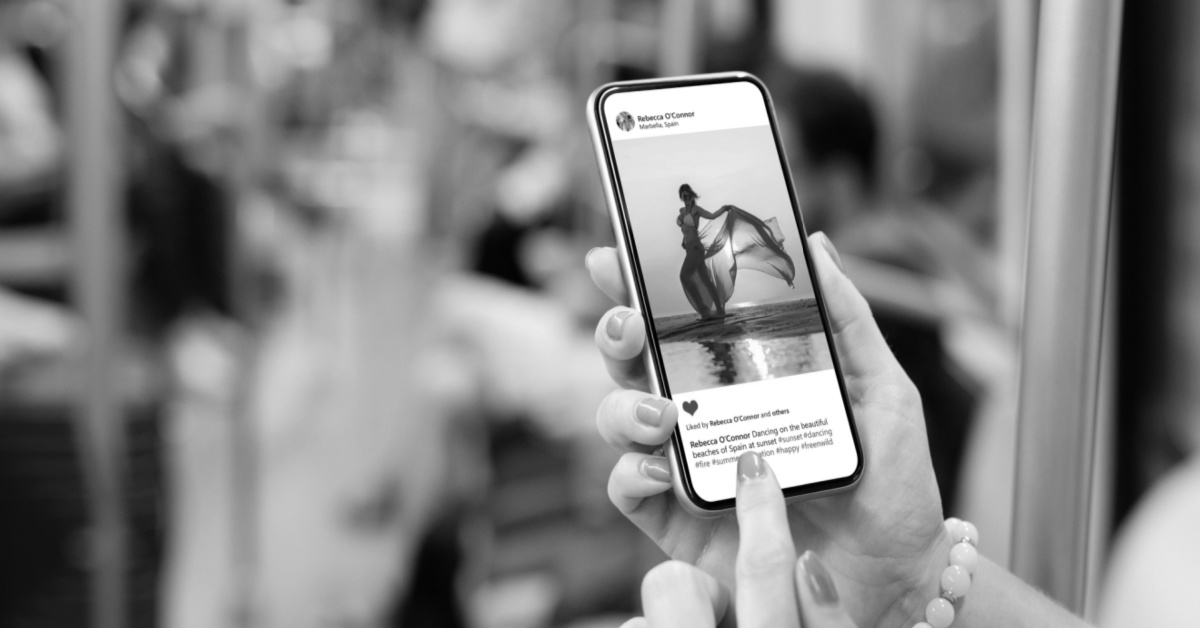 In June last year, Instagram shared that they are no longer classifying itself as a photo-sharing app, and the drastic changes haven't stopped from there. We have seen Reels take off, Stories get new features and purpose (with all users being able to share links regardless of their following count), and now we are told that the square dimensions may be on their way out too!
So, what does this mean for us working in the social space for businesses? We are here to break down a few recent updates on how we post on our beloved Instagram and the latest recommendations.
Post Sizes
From Instagram Posts, Stories, Videos and Reels, keeping up with the best asset sizes and ratios is no mean feat. Generally, the recommended ratio for Instagram posts is a 1:1 ratio, the square we are all familiar with. This is easy to follow and generally works well as the Instagram profile grid crops content to a 1:1 ratio (up until now!).
Once upon a time, post sizes were limited to the simple square, but now we are seeing a push for a longer photo, and basically, anything goes! Dimensions of Instagram posts can now range from 16:9 all the way to 4:5.
This may seem like a lot of numbers and might not make much sense to the average scroller, so let us explain. Aspect ratio refers to the width of a picture in relation to its height. When expressed as a ratio like 4:5 or 9:16, the first digit represents the width, and the second digit represents the height of the asset (whether that is a photo or video file).
Post updates (including size recommendations)
Don't stress – we've got the latest size recommendations ready for you below so that you can achieve an easy-flowing, attractive feed.
Square posts
For the traditional 1:1 ratio we recommend 1080px by 1080px.
This size is perfect when you want to achieve the ideal square pic, maybe a bird's eye view of your bacon and eggs at your local café.
Portrait posts
We recommend 1080px by 1350px, as Instagram's portrait aspect ratio is 4:5.
Perfect for when you're uploading a portrait shot of your Labradoodle at the beach.
Horizontal posts
We recommend 1080px by 1350px for this one, meaning you'll hit that perfect 1:91:1 ratio.
If you want to upload a horizontal shot of last night's sunset, this size is perfect, so you don't get an ugly border.
Landscape posts
Instagram added a new feature, making it easier to upload landscape content.
You can do this by clicking add post > choose your pic > tap the full-size button in the bottom left corner (the two V shapes) > and just like that, it's done with the perfect ratio!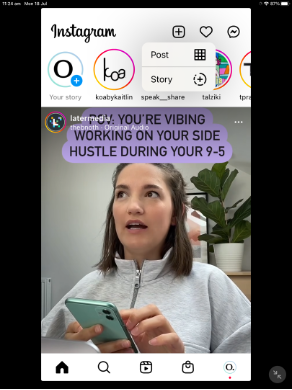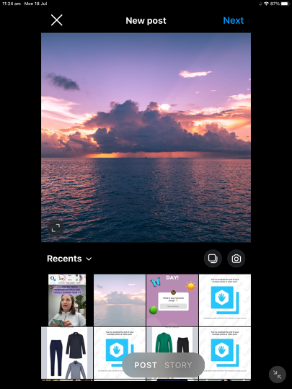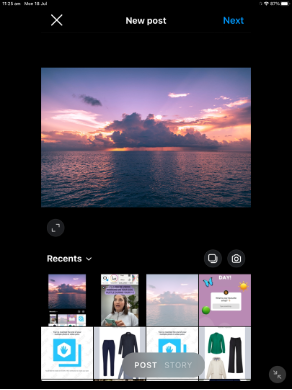 Pinning posts
Instagram has also added a new feature where you can pin your favourite posts to the top of your profile. You can choose up to three posts or Reels to pin to the top of your profile.
Photo credit: Instagram post on Twitter (June 8, 2022)
Stories
Story size recommendation
A Story is an in-app feature that makes content available in a slide-show format for 24 hours only. It is featured on your follower's feed up the very top. After that, it disappears unless you choose to add it to the highlights section on your profile.
The ideal Story size is 1080 by 1920 pixels with an aspect ratio of 9:16.
Stories are designed to be viewed vertically, so uploading horizontal content isn't appealing. Something to note is that Stories also support JPG, PNG files under 30 MB in size. If you're choosing to upload a video, the supported file types are MP4 and MOV and must be under 4GB in size.
Did someone say 60-second Insta Stories?
Instagram has also released a change where Stories can be up to 60 seconds long without those annoying cuts every 15 seconds. The useful feature will cut down your editing time, allowing you to add location tags, music, mentions, etc., without repeating the process. We vote yay for this one!
Reels
Reel size recommendation
Instagram Reels are a tool where you can create interesting videos from 15 seconds to 60 seconds long. However, some creators have the option to create for up to 90 seconds.
Our Reel size suggestion is an aspect ratio of 9:16. You can achieve this by making your content 1080 pixels wide by 1920 pixels tall.
Filming and editing on your phone is a great way to stick to the recommended aspect ratio. When creating a Reel, it is important to note that you do not put any important visual elements in the bottom fifth of the frame. Why, you ask? This is where the Reel caption is displayed, so it will cover up that part of the frame.
Did you know all video posts are now turned into Reels?
Along with aspect ratio changes, Instagram has moved to convert all videos posted on the platform into Reels to increase engagement levels and achieve simplicity. Mark Zuckerberg supported this argument in an Instagram Story by stating that Instagram wants to make it easier to "discover content and connect with friends."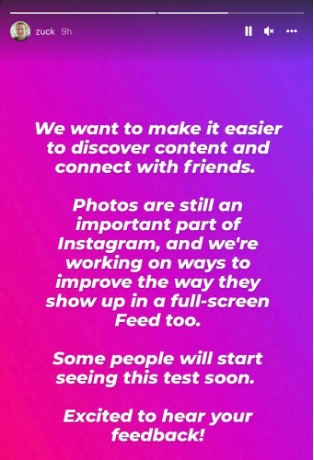 Image Credit: Screenshot from Instagram.com/Zuck, June 2022.
How will this affect users?
What does this mean for you? If your account is public and you post a video, Instagram also noted that anyone could make a Remix with your Reel and download it as a part of their Remix. You can turn this off through your settings by searching Reels and clicking the 'Reels and Remix controls' option, then switching the allow for Reels and allow for feed videos toggle off.
Although, the good news is if you prefer to have the private account toggle on, only you and your friends can view the Reels you share.
What challenges does this update make?
Reels support vertical content, so posting a horizontal video may become challenging. Depending on your posting platform, you might want to think about how you film your videos. It's important to keep up to date with changes so you can adjust accordingly. We hope this article can help you understand the updates Instagram is dishing out. We know social media can become overwhelming, with platforms constantly changing in response to trends.
With Instagram rolling out new features to keep up with the ever-changing social media world, we wonder what is next? If you need a hand decoding the social media maze, get in touch or send us a DM!