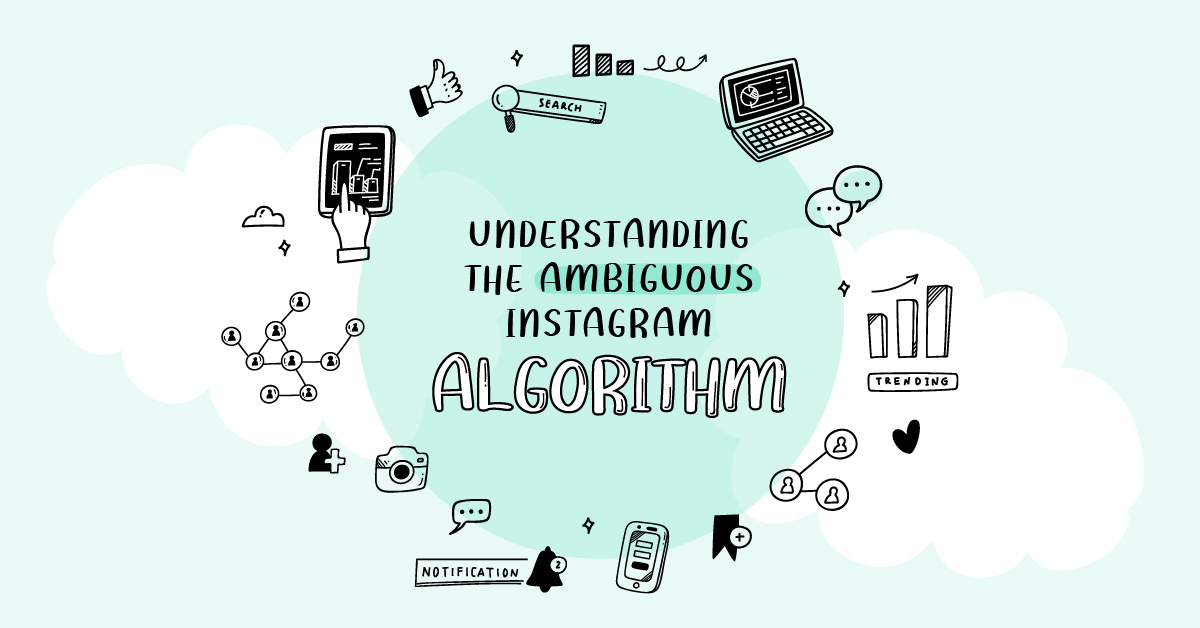 Ah, the infamous ambiguous Instagram Algorithm, sounds like a mythical social buzzword, doesn't it? Well luckily, Instagram has recently come out and addressed once and for all the elephant in the room (or should we say algorithm on your phone?!) In this blog, we're going to further expand on what the algorithm is and how you can use it for your benefit! So, stop scrolling for a few minutes, have a read, then you can go back to scrolling with purpose!
What actually is 'the algorithm'?
The first surprise is there isn't just one algorithm! What, wait you say!? We know! In fact, according to Adam Mosseri at Instagram, there are a variety of "algorithms, classifiers and processes" which serve their own purpose. As Instagram has experienced exponential growth since their first launch in 2010 so has their number of users and the level of content being shared on this platform every day.
Hootsuite recently reported that as of 2021 over 1 billion individuals use Instagram every single month, now imagine if each of those individuals were posting something every single day, that is a lot of content to manage on Instagram's end, hence the introduction of 'the algorithm.'
After six years of being around students found a majority of Instagram's users were not seeing 70% of the posts in their main feed plus half of the posts from their close friends or connections. Therefore, Instagram found it was essential to introduce a range of algorithms to help source, filter and rank content based on each user's interests.
How does the algorithm work?
We're glad you asked! Instagram has broken down different types of content within their platform to cater your experience to your specific interests. This is reflected in your feed, in stories and Reels and IGTV.
The content shown to you within your Instagram feed has first been filtered based on the time posts have been shared from the accounts you follow, meaning the most recent posts will be shown to you first. This is then broken down further based on 'signals,' a term coined by Instagram to determine the connection between who you follow, the content of the post and your preferences.  There are thousands of signals working at one time, but some of the primary ones include things like the popularity of a post, the type of person/account who has posted, your activity on your feed (such as posts you have liked before) and your history with other people/accounts you follow including likes, shares and saves.
For Instagram stories, the filtering process to show you content is a little simpler. The first stories shown to you when you open up Instagram are from accounts you engage with on the reg. This engagement includes likes, shares, comments, DMs and more. Later, an official partner of Instagram and renowned marketing platform put it perfectly by stating "The Instagram algorithm recognizes who you are regularly interacting with and will then place them at the top of your Instagram Stories viewers list because it knows those are the accounts you care about (or creep) the most."
For Instagram Reels and IGTV, the algorithms at play work similarly to your feed. This means the content you are shown in this area is reflective of the people and accounts you consistently interact with. We know you're probably thinking, "what about the Reels that are recommended to me in the search tab?" Instagram's algorithms work to deliver you super entertaining content! This is driven by random surveys Instagram facilitates to keep across interests and trends in conjunction with a range of signals including your engagement habits, the type of people you follow and information about the person posting the reel. This is a very topline explanation of how Instagram work to suggest fresh and interesting content to you, outside of your current following.
May the algorithm be in your favour!
At this point, we're sure you're feeling a bit overwhelmed by algorithms and signals and considering how you're going to keep all of this in mind when planning your social media strategy. Well, we have broken it down into a few suggestions for you to implement into your Instagram strategy today!
Things to start doing:
Creating and sharing Reels and IGTV – This will help you to extend your reach and engage a new audience base. Don't share watermarked Tik Toks!
Post carousels – According to a 2021 study conducted by Hootsuite, 17% of feed posts include Carousels, meaning they gain more engagement. This could be due to the fact you can share more interesting content in one post and convey more detail about your brand/account allowing you to potentially gain more reach!
Share consistent content and at suitable times – According to a recent study conducted by Sprout Social, the best times to post on Instagram include Monday through to Friday at 11am and Tuesday 11 am – 2pm. This is of course general in nature, we recommend looking at your insights to gauge when your audience is active and ensure to deliver consistent quality content when they are likely to be online.
Things to stop doing:
Don't share watermarked Tik Toks! – As you know, Instagram is constantly filtering content and it has been confirmed by their Creators account that reshared Tik Tok stories will not be considered as a top-performing piece of content.
Don't believe everything you read – things like Shadowbanning may sound scary however further research and careful understanding will help you to understand these terms and why Instagram restricts inappropriate content. You can also watch this myth-busting video shared by Instagram's Creators account to learn some more truths!
Algorithm = The ultimate filter!
We had to stop ourselves from typing tbh, as we LOVE researching and learning about social media tools! So to keep it simple, one thing we really want you to take away from this blog is don't try to outsmart the algorithm or work against it, it is in place to help you and your audience. It is a powerful and helpful framework that can assist you to elevate your Instagram strategy further, so take this as an opportunity to get creative!
If you would like to chat further about your Instagram strategy and how you can best work with the algorithm in mind, please send us a DM here.