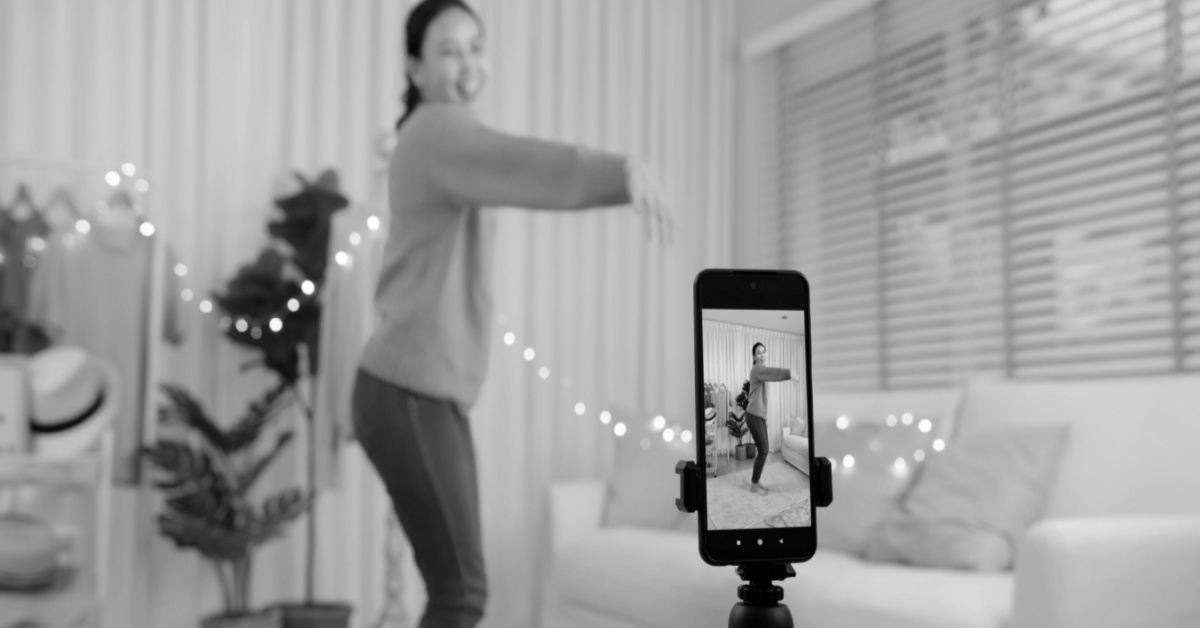 "Let's go viral!" – is a phrase that's definitely easier said than done. However, going 'viral' may not be as beneficial as you might think – especially for a business trying to grow on a new platform. TikTok, the rapidly growing social platform, is becoming the primary focus for small businesses to find different ways to connect with customers. This platform favours short-form videos and pop culture trends and is different from any other social media channel. With plenty of TikTok tips flying around, how do you know which one's right for your business?
While the main goal for some users may be going viral, as a business, you want to ensure that you are building your brand's presence and are growing your relationship with a new audience.
If you're new to the platform or simply looking to expand your business reach, here are our top TikTok tips and tricks.
Do I need lots of followers?  
Unlike other platforms that push content from users with more followers, thanks to their algorithm – which has a customised "For you page" (FYP) –  TikTok pushes a variety of creators into users' feeds according to video details and account information like captions, hashtags, etc.
For this reason, the key to success on TikTok – as simple as it may sound – is authenticity. Yes, there is some editing that comes into play. However, most of its content is considered more "real" than other social platforms.
You're making a TikTok – Not an Ad
Even though we do want to advertise our business service or offering, TikTok doesn't work like other social media channels. Roger Hurni emphasises the importance of aligning your brand's content with TikTok's psychological profile. TikTok follows a unique set of rules, with a whole different language.
Your TikTok strategy should feature a very nice and friendly voice. You have to understand the site's culture and language before making content. Do your research – go through pages and users that you believe are similar to your industry, check what trends they are following, etc.
Focus on one thing at a time
TikTok is an educational but comical platform. It is easy to fall into the habit of trying to be technical and funny at the same time. This is probably not the best approach if you want to get noticed. Focus on one thing at a time, either a comical video of the latest trend, or an educational video about something you are an expert of.
Get immersed in the app and keep up with the trends
TikTok is no different from other social media platforms in terms of good, well-thought research being the key to success. Watch popular TikToks, and constantly check for new trends. This will let you create relevant and relatable content for your users.
Not all trends or popular hashtags will relate to your business. However, the most successful users on TikTok don't adapt their content to the trend; they make the trend work with their content. Put your own spin on an existing and successful trend.
For example, one of our favourite tricks is using a trending sound that is not yet cluttered with multiple videos. The TikTok algorithm is more likely to show your videos to your audience if it includes a sound that is currently growing on the platform. Try to use sounds in your videos, even if the volume is low and behind any voice-over you make.
Don't forget to keep up! Trends come and go in a matter of days. Stay on top of these by scrolling through your FYP and explore page as part of your research. By scrolling day in and day out, you will start to figure out the game: who is important and why, what are people saying, what is the topic of the week, etc. This will not only be highly beneficial for your marketing strategy, but you will also start to understand why some things work and others don't.
Consider TikTok influencers
TikTok influencers are considered the most followed and trusted creators throughout all platforms. There are so many to pick from for almost all topics and industries out there.
Influencers can give you exposure and facilitate sharing your business message with an already engaged audience. One of our favourite platforms to find popular creators that are right for our clients and who fit with their brand is TikTok's Creator Marketplace
Keep it real
The easiest mistake brands tend to make is overengineering a campaign on TikTok. Most small businesses succeed on this platform when they are authentic and approachable without any fancy production. You will thrive with genuine and relatable content.
TikTok is all about good storytelling and the reaction and emotions you can produce for your audience. These can be a good laugh, a fun fact to know, an "aha! Moment", etc.
What is the role of TikTok?
We all want to be part of the TikTok hype, but before we jump, we need to properly evaluate how TikTok will fit into your social media strategy.
As said before, TikTok is the most volatile and dynamic platform of them all. According to Forbes, identifying the messages that would be relevant to your audience and this platform's culture is key. Make sure that the content you develop follows your strategy and that it is on-brand and authentic.
Not sure if TikTok is the right platform for your business? Take a look at how each social media platform can benefit you. 
Not sure where to start?
If you have decided that you want to create an account for your business, you will need to be active and consistent on this platform. We have given you some TikTok tips to jump-start your account, and now, we want to provide you with a list of some generic ideas and trends to help you get into it. Keep in mind that these are very broad, but you can give your own spin to all of them! If you get stuck, just remember the FYP is there for you to get some inspiration.
TikTok Ideas
Introduce your business with some fun facts about you or your business.
Meet the team video.
A success story that you are proud to share.
Meet the pets of the office!
A day in the life.
Show off your best seller and why your customers love it
Show off details or close-ups of your products and services.
What you wish you knew sooner as a business owner
For more TikTok tips or social media guidance, get in touch with us via email or Instagram DM.