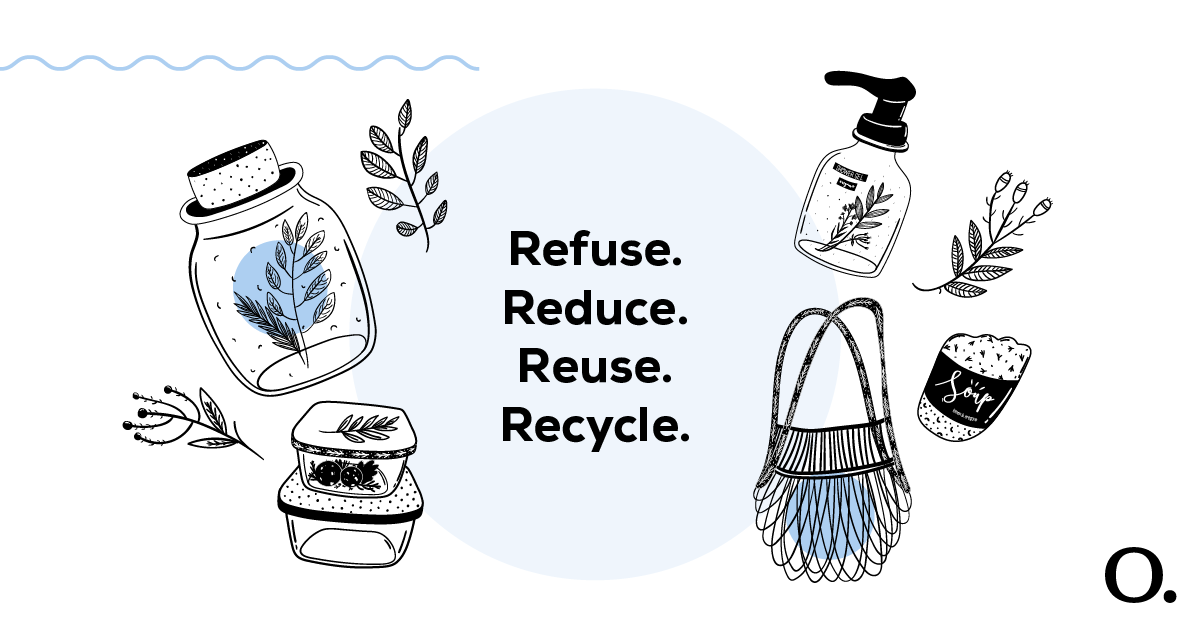 The climate change discussion is a hot topic and we can all feel a little helpless when reflecting on this huge global issue. But what we can do is make small changes in our day to day that will have a positive impact on our environment and lead us down a more sustainable path.
We typically spend 8 hours a day at work and so if everyone does their bit and makes a concerted effort to be more sustainable in the workplace as well as at home, we will start to see the difference.
Fact: Did you know that there are between 15 and 51 trillion particles of plastic that float on the surface of our oceans? And it only represents 1% of the plastic waste estimated to flow into oceans from the land every year.
Here are some ways you can influence more environmentally friendly practices at work.
Reduce, reuse, recycle
Reduce: You can reduce your energy consumption by unplugging your laptop charger when you don't need it or lowering your screen luminosity to save power. Become paper-free by not printing as many documents and proofing work on the computer.
Reuse: Think of clever ways you can upcycle or reuse things around the office, used candle jars can become pen holders, boxes from delivered packages can become drawer organisers, or maybe start a book swap syndicate in the office for everyone to bring in used books to share.
Recycle: To optimise waste in the office, request to have all the possible recycle bin options:
Paper recycling
Green waste & compost
Plastic recycling
Soft plastics
General waste – this should be the smallest bin!
BYO everything
Don't just bring a bottle…. Bring your coffee cup, your lunchbox, your cutlery, your food wraps and produce bags.
There are so many alternative options for single-use plastic and these are some of our favs:
Hot drinks: Who doesn't have a KeepCup? If you have a daily coffee habit, then this is one essential item to have in your workbag.
Cold drinks: There are so many gorgeous reusable water bottles available, they are becoming a fashion statement in themselves. You can find ones that keep your water cool, have infusers for fruit teas or citrus flavours and they come in all shapes and sizes.
Lunchboxes: Bring your own food and choose from a plethora of sustainable and practical lunchboxes. From bento-style snacking to heat resistant glass for leftovers, there is so much choice.
Cutlery: We absolutely love these cutlery wraps that are starting to pop up everywhere. Combine a set of cutlery, some chopsticks and your metal straw in a cloth wrap that can double as your napkin as the ideal accessory to always have in your handbag.
Food wraps: An alternative way to bring in a sandwich is to consider a sustainable Beeswax wrap instead of using clingfilm. There are beautifully designed ones available, or you could even have a go at making your own!
Produce bags: Thinking of doing some shopping on your lunch break? Remember to take your own bags, even if you're not grocery shopping. You can also get some awesome alternatives for fruit and veg packaging with smaller produce bags.
Ride or walk to work
It's a win win-type situation. Riding or walking is good for your health (mental and physical) and it's also great for the environment. Since 1990, transport-related greenhouse gas pollution levels have increased by 62.9% which clearly has a massive impact on the environment.
If you can, trade your car for your feet and enjoy a nice walk or ride to work even if it's not the entire journey, think about being in your car less and parking further away from the office to get those steps in!
Stock sustainable supplies and adopt energy-efficient policies
When working in an office, certain things need to be ordered in to allow the office to function, Things such as toilet paper, paper towel, tissues, dishwashing liquid for the kitchen and soap. Try ordering environmentally friendly alternatives to these office essentials. Our favourite for toilet paper is Who Gives a Crap, a company that manufactures toilet paper made from 100% bamboo and recycled toilet paper, which also donates 50% of their profits to help build toilets in countries in need. Pretty cool that by changing toilet paper, you're making a difference, right?!
There are plenty of other options for swapping out other office supplies and policies for more sustainable ones, including:
Opting for reusable pens instead of disposable plastic ones.
Go digital and minimise any printing in the office. If you do need to print, invest in recycled paper.
Look into your electricity and lights as these may be using more power than you realise. Even switching your lights to compact fluorescent globes as an environmentally friendly option can do the trick.
Reassess your heater and air conditioner use. Many of these units use a lot of power, so blasting the heater during the winter months might not only be costing you money, but it's unhealthy for the environment. Consider leaving a few extra layers in the office and encouraging staff to do the same, so that you may not need to use the heater at all during colder months.
If you use paper towel, assess whether this is necessary. You can change this up to become more environmentally friendly by using hand towels or even hand dryers to combat paper towel waste.
Probably one of our favourite ways to go green is to literally go green! Adding plants to the office provides more benefits than you may realise, as they emit oxygen and reduce air pollution, making the air in your workplace cleaner and healthier to breathe.
Whether it's at home or work, everyone can help the planet by changing our lifestyle and considering our environmental footprint. Every little bit helps!
What are your favourite sustainable tricks? Let us know on Instagram @OracoAgency