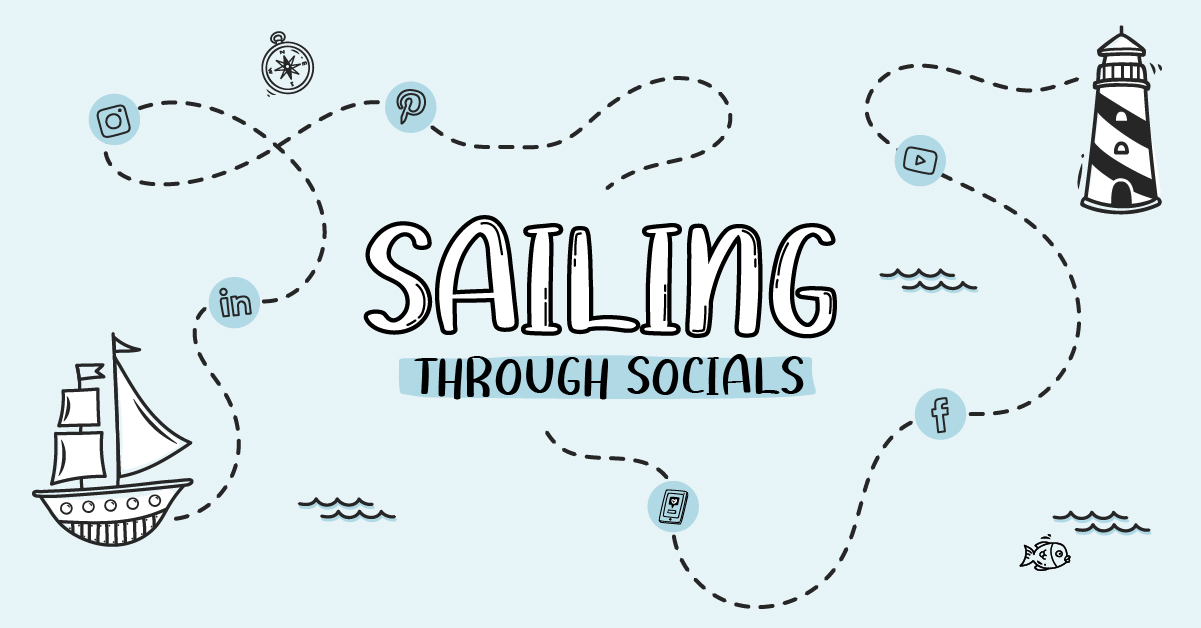 It seems like every time we wrap our heads around one new social media feature, ten new features emerge! Keeping up with trends and new features can certainly be challenging for businesses that want to stay relevant – especially when it comes to trying to master each one.
If you're feeling a little overwhelmed and not sure where to look to find the latest trends, Sailing Through Socials has you covered! Read on for all the latest trends you should know.
Facebook Reels
Facebooks retaliation to Tik Tok – Instagram Reels – are headed to Facebook. An Instagram feature that promotes organic engagement was introduced almost a year ago in response to the growing use of Tik Tok. Although Facebook Reels are still going through a testing process, it looks like it'll hit our news feeds under a Reels tab soon. It's also giving Instagram creators in the U.S. the option to have their Instagram Reels shown as recommended content on Facebook.
While nothing's set in stone, Facebook Reels are expected to be like Instagram Reels in terms of features, however, some aspects of Instagram Reels – such as remixes – won't be available on Facebook Reels right away.
Pinterest influencer features
In May, Pinterest unveiled its new feature that allows creators and brands new opportunities – Idea Pins. Ideas Pins are shoppable and allow influencers to earn money via affiliate links and brand partnerships by tagging products in their pins. Users can then click through and purchase the product – much like they can on Facebook and Instagram shop.
Since its inauguration, Idea Pins have seen a 7x daily creation increase and a 10x impression increase, proving successful. Not only can products be tagged in these pins, but they'll also help brands with content creation.
According to Pinterest, these features include:
Creating a step-by-step guide, project, or recipe
Uploading multiple short videos with additional descriptive text or text overlay
Customisation of the colours and fonts in your pin
Improving targeting your audience with topic tagging
Curating a collection of products
Telling a story in a brand-new way
Pinterest is a great way to increase organic reach and can often be overlooked by businesses when it comes to setting up social platforms.
Instagram shop ads
For those businesses with an Instagram shop set up, you may begin to see ads popping up. Instagram shop ads are being introduced, with the option for single image or image carousel ads to be used. Testing is taking place across brands in the beauty, pet products, travel, and home décor space.
For the time being, Instagram Shop ads will only appear on mobile devices and be shown to users based on their usage frequency and how many people are shopping at any given time. Instagram Shop ads give brands the ability to promote their products on the Shopfront page, allowing users who click on them to be taken to the details page where they can find out more.
Instagram story link
For accounts on Instagram that had over 10,000 followers, a 'swipe up' link in Instagram Stories was introduced, making it easier for users to head to the link mentioned in the story. Instagram is making a slight change to this function, replacing the swipe up function with a link 'sticker' option instead. Instagram has made this change to provide added benefits including:
A streamlined stories creation experience
Added creative control
Further engagement
The change came into effect at the end of August, so its success is still to be determined.
Instagram audio tab
Instagram has made it easier than ever to search for audio within the search function. This makes it easier for users to tap into trends based on audio and search for IGTV videos and Reels that have used the sound. The audio can then be saved to your library for use later.
If it sounds familiar, that's probably because it is. The audio tab was created to replicate the 'sounds' feature in Tik Tok as Instagram continues to push users to use the Reels feature. Besides searching for the audio, users can tap on the audio in a Reel to find other videos that have used the same audio.
Instagram discovery tool
This super cool feature has recently been introduced in Australia. In the top right-hand corner of the search bar, users have the option to click on a little map button that brings up popular tagged locations around them. This feature makes it easier for users to find small businesses in their area. The map is broken into categories such as restaurants, cafes, sights and bars, as well as having a search feature that allows users to search for what they'd like to find.
Map Search will bring up information on businesses in the area including public tagged posts of the place hours of operation, address, price information, Instagram profile and more. This new tool will allow for greater exposure of businesses in local areas.
Instagram auto captions
While captions have been available for IGTV and Instagram Stories for a while now, automatically generated captions haven't been available for video posts in your feed. Instagram has been hinting at dropping auto-captions for Instagram videos to improve accessibility. Instagram estimates that 40% of Instagram users watch content like stories without sound. On Facebook, the numbers are even higher. This means if you omit video captions, you could be leaving a lot of followers out of the loop.
These auto-captions are also an attempt to:
Improve accessibility
Increase engagement
Clarify your message
Save time 
LinkedIn video meetings
Zoom meetings seem to have taken over our lives in lockdown – both for work and personal use. Professional platform LinkedIn has released video meetings on their platform, allowing users to jump onto video chats – much like Facebook Messenger calls. The ability to join a video chat within LinkedIn will be helpful for sales and business development professionals specifically and even for users looking to catch up with old colleagues. For colleagues who use LinkedIn to connect, the ability to jump onto a video call when needed is very handy. 
LinkedIn stories 
Speaking of stories, they haven't been as popular over on LinkedIn. At the end of September, LinkedIn will be culling its story feature, saying, "users want their stories-like content to live on beyond the 24-hour window, and be available on their profile" and "users want more creative tools to make engaging videos across the platform."
The platform will look at incorporating these two elements in its next video project which will be designed to replace the stories concept. Although the story format didn't take off on LinkedIn, it's still a success on other platforms like Instagram, so keep those stories coming.
With so many new social media features hitting our devices, getting your head around the latest trends can often feel challenging. No matter what platform you're using, Sailing Through Socials will keep you up to date with the latest trends as they emerge and how you can use them for your business.
Want to chat with our social media team? Get in touch today.