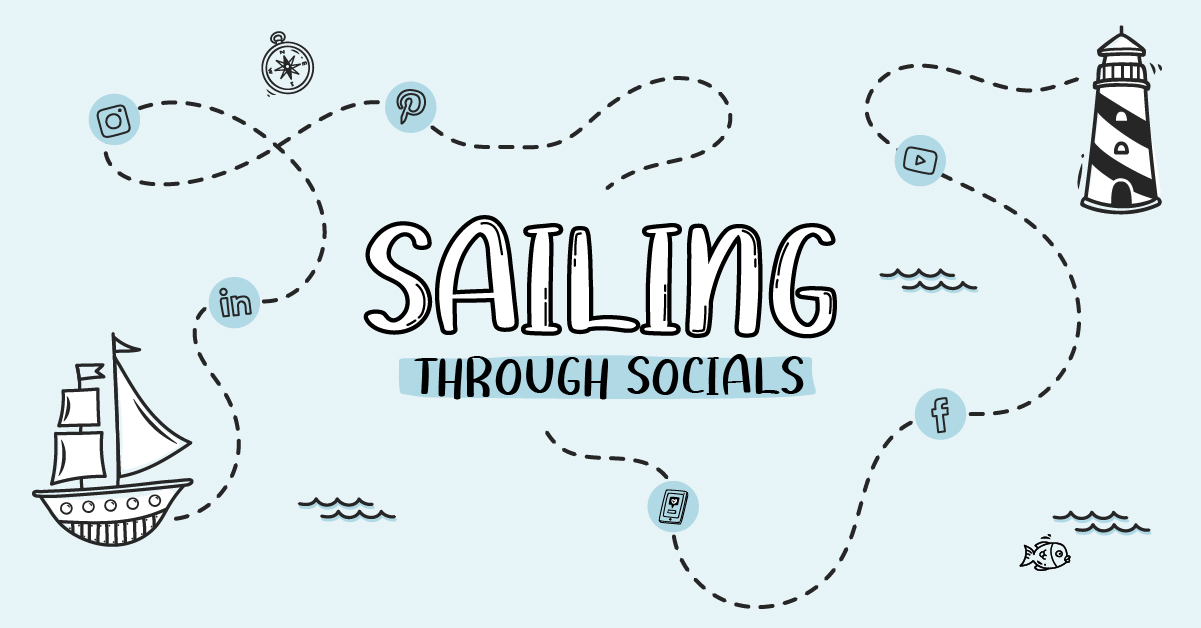 It's almost the end of November which means it's time to go Sailing Through Socials and look at some new social media features that have surfaced this month. As the holiday season begins, some of these new features are perfect for businesses to increase engagement and conversions as people ramp up their Christmas shopping.
Our latest instalment of Sailing Through Socials is now live on Instagram, with Kelsey and Eloise discussing all things social. In case you missed it, here are all the highlights.
View this post on Instagram
Facebook
Facebook name change
One of the major stories to come out of the year is Facebook changing its overarching company name to 'Meta'. This means all the previously owned apps by 'Facebook' such as Instagram, WhatsApp, Facebook and more. Although the Facebook platform itself hasn't changed its name, Facebook's various projects will now all come under the 'Meta' banner, reflecting its evolving focus on the next generation of digital connections. This name change comes as Facebook has begun to lose popularity among the younger generations to other apps like TikTok and Snapchat. It's a way of trying to win back some of this demographic – how much it will help, only time will tell.
Creative app platform for stories
Facebook has launched a new creative app platform for Facebook Stories which allows developers to create and promote Stories-related apps direct within the Stories eco-system. The wide reach will allow developers to list their tools and seen by a larger audience than if it was purely listed in the app store. For creators, it's a way to gain exposure to external creative apps without having to leave Facebook. The apps that are now accessible through this feature include apps with special effects, stickers, video editing tools and more.
Translation engine
Although it may be a little way off, Facebook has a potentially ground-breaking project in the pipeline – XLS-R. In the latest instalment of Sailing Through Socials, Kelsey and Eloise discuss this feature. "This feature surrounds artificial intelligence and languages. It's focused on performing speech recognition, speech translation and language identification at a higher rate than any similar systems available," Kelsey says. At the moment, it can translate up to 128 different languages into English within a singular app – pretty impressive right?
Instagram
Instagram link in stories
One of the biggest features to take off this month has no doubt been the Instagram link in stories, which has been made accessible to everyone. This means that not only are links easily able to be clicked on in stories, but they're available to all users and not just limited to those who have over 10k followers or are verified. This is a huge breakthrough for small businesses and other users who can now easily drive traffic to their stores or websites without having to rely on users navigating their way through the feed to find their website.
Collaboration feature
Another new feature that's great for companies working with influencers is the collaboration feature. This allows users to invite someone to collaborate on a feed post or Reel which opens them up to a whole new audience. Essentially, you can co-author content with a fellow Instagram user, and the post will show up on both of your profiles. Both names will appear in the header, the post will be shared to both sets of followers, it will be live on both profile grids and will share views, likes and comments. This feature is a fantastic opportunity for businesses to gain exposure from influencers or other account's followers.
More insights
Business and creator accounts have expanded access to more Instagram insights, You can now see more specific information on who's engaging with your content – whether they follow your profile or not – as well as the total reach of your posts. Some new metrics added include:
Accounts engaged – This metric will show the total number of accounts that interacted with your content in a given period.
Engaged audience – This data will provide demographic insights into the users that are engaging with your content, whether they follow your profile or not, including top cities, top countries, top age ranges and gender
Reached audience – Similar to Engaged Audience, this will provide demographic information about the people you've reached with your posts in a given period, including top cities, top countries, top age ranges and gender
 Text to speech 
Instagram is jumping on another TikTok trend train by launching a text-to-speech option in Reel clips, as well as new voice changer options to alter your vocal tones. This feature is a fun way to mix up your stories and allows you to add a bit of humour or narration without using your voice. While none of these features is new on TikTok, Instagram is certainly treading water to keep up with the fierce competitor to Reels.
LinkedIn
New tools for company pages
The job market is booming in places around the world as we all start to learn to live with the fallout from the pandemic. LinkedIn has added some new features to make it easier for companies that are rebuilding. Significant changes, include the addition of a new 'primary workspace' display option on company profiles. This feature allows businesses to list whether their employees are generally 'remote,' 'hybrid,' or 'on-site' to educate others on what options are available. If your business has converted fully to working from home, listing this on your page could bring in a much larger pool of potential applicants.
Another new feature LinkedIn has added is a customisable competitor analysis to your LinkedIn analytics tab. Your business can choose up to nine competitors to benchmark your performance against. Much like Facebook's Pages to Watch, the listing gives you a basic comparison of how other Pages in your niche are performing on LinkedIn, which will either make you feel better or worse about your numbers. However, no matter what the numbers, it can be an invaluable tool to improve your performance.
Pinterest
Video content
TikTok is changing the game when it comes to short-form video content. Pinterest is the latest social channel to start adding new social media features to keep up. At the most recent Creator's Festival, new features were rolled out including a 'watch' tab and the ability to create your pin with 'takes.' This tab was formerly known as 'story pins.' Featured on this tab was a range of 'idea pins' which consist of a series of images or short videos that tell a story. It's like Instagram Reels or the layout of TikTok where you scroll up to see more content.
Off the back of this, the 'takes' feature was launched – think of it as the duet feature on TikTok or the remix feature on Instagram Reels. This allows users to create their own 'take' on an existing idea pin.
Making money on Pinterest
New tools for creators were launched at Pinterest's Creators Festival. Another one of these new tools is the Creators Rewards program. This program is the first in-product monetisation program for creators, which is a way for creators to be paid for their content. At the moment this feature is only available to creators in the US but will go global next year. Anyone over the age of 18 can have a crack, with the criteria for entry being:
You must be over the age of 18
At this stage, you must reside in the US
You need to have at least 1,000 followers
Your profile needs to have at least 3 idea pins
Creators will then get paid if they meet Pinterest's general content criteria and goal-specific criteria. E.g. Pinterest might ask someone to make an autumn-themed Idea Pin, paying them $100 if it gets 5 'takes,' 
Twitter
Twitter super followers
Twitter's latest feature involves giving users the ability to charge their followers for access to additional content, and the ability to create and join groups based on specific interests. This additional content can include anything from extra tweets, access to a community group, newsletter subscriptions, and even a badge indicating your support. This subscription feature allows fans to pay their favourite creators directly.
Twitter Communities
One of the last of the major new social media features rolled out over the past month is the introduction of Twitter Communities. This feature is like Facebook Groups and provides users with the option to create and join topic-specific Communities which allows them to see more focused tweets on their chosen topic. This could be anything from indoor plants to cats and even surfing.
It's been another huge month of new social media features – and these are only the main ones! You can check out our latest Sailing Through Socials Instagram Video to see the girls discuss these new features, as well as segments like Fab or Fail and New to Me
If you'd like to talk about how your business can utilise some of these features, send us an email or reach out via DM today.
Missed our first episode of Sailing Through Socials? Watch it here.