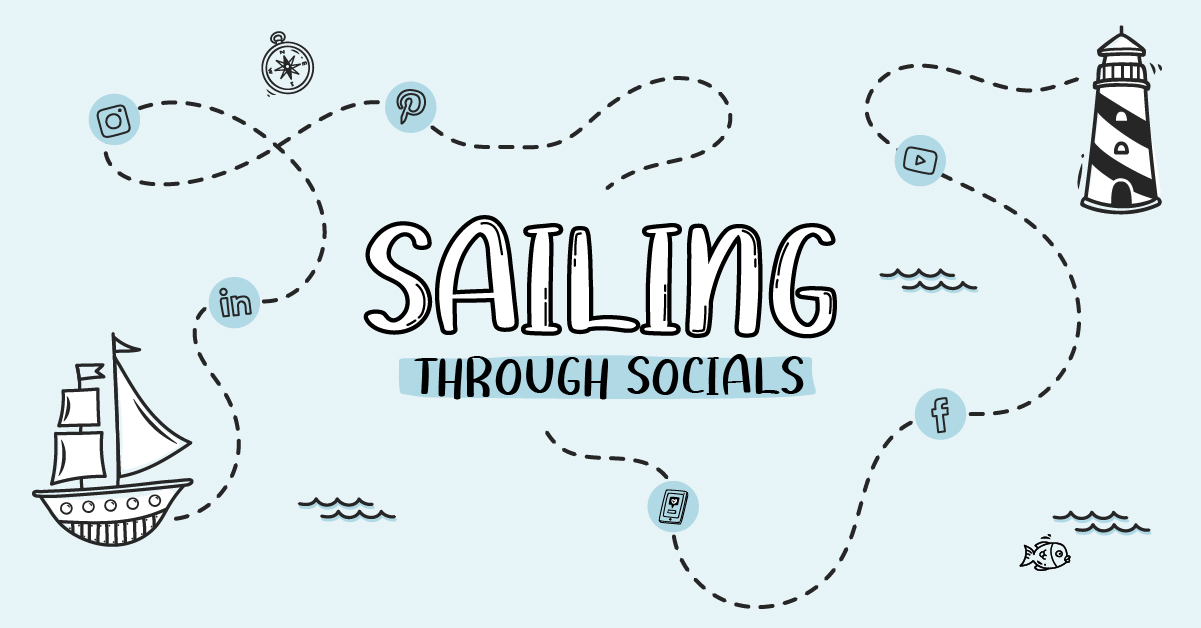 Before you check out of 2021 and tuck into your Christmas feast, it's time to check in on our monthly social media update – that's right, it's Sailing Through Socials time! Every month, the Oraco team creates a list of new social media features that can benefit your business.
On this month's Instagram IGTV, Kelsey and Eloise are joined by Oraco Campaign Manager, Tayler, for her take on all thing's related to social media campaigns. You can watch it here.
View this post on Instagram
Facebook
New support features
Facebook is upping its game to win over more creators. They have introduced new comment and moderation tools to help support creators, as well as a live chat function for those locked out of their accounts.
While businesses have been able to hide comments for a while, creator pages haven't until now. Hiding a comment will make sure only the page admin and commenter can see the comment.
There is also a range of new blocking controls which allow pages to block problematic users and any future accounts they create. Some of these new features include automatically hiding or blocking comments with variations of words that use numbers, symbols, or different spellings. This new feature will help pages sort through the trolls a lot quicker and easier.
For more information, read our blog on online trolls and how to manage them.
Trend insights
Another new feature Facebook are looking to trial, is providing is more insight within Creator Studio with the rollout of a new Inspiration Hub. This will highlight trending content and hashtags within categories related to your business page.
With multiple filter options, searching for trending content across your industry has become a whole lot easier. You can choose filters such as page category, content type, region, and more.
While it's still being rolled out, this is an exciting feature for creators to keep an eye out for.
Shops in groups
In another e-commerce push, Facebook is adding some new features. To encourage online shopping, Facebook has now added a shopping feature in groups. Their goal is to allow users to support the communities they care about most by buying products from them. When a shop is available in a group, a tab will appear in the group navigation options. Items for sale will be featured in a separate panel in the group feed. Each purchase from a group shop can also help to support that community.
Instagram
Change to feed display
Once upon a time, our Instagram feeds displayed posts in chronological order. Five years later, a version of this feed display is coming back! Early next year, Instagram plan to release a version of the old chronological feed, which, rumour has it, will likely operate as Facebook's feed does now. This means users will be able to choose to view posts from pages and people you follow in time order, but you can't set it as a default and have the app open to that reverse chronological feed every time you come back.
While this may throw Instagram's algorithm into disarray, businesses should stay alert when this feature rolls out, to see how it plays out for businesses.
Reel replies
Short-form video content is all the rage, with TikTok and Reels being some of the most popular ways to watch videos on social media. To expand user engagement, Instagram has added the option for creators to answer comments on their Reels with another Reel.
Now, when you reply to a comment on a post, you'll also have the option to tap on the blue Reels button to create a video reply, which will then appear as a sticker that you can send to the commenter.
Take, for example, a clothing business adding a Reel around a new product. If someone commented asking for different ways to style the garment, the business could reply as a Reel and answer the question in a visual format. The comment they're replying to would be shown in the Reel.
Edits to carousel posts
A small but welcomed feature addition is the ability to delete images from carousel posts once they've gone live. Previously, if there was an error in your carousel post, you would need to delete the whole post and reupload it. Now, users can delete specific posts from their carousel without deleting the whole post.
Carousels have become one of the most popular post formats on Instagram, with research showing carousel posts have taken over both single image and video updates as the most engaging type of post. For businesses, the ability to edit posts as you go is a great one – especially for those who post frequently and may make the occasional error.
Pinterest 
Reply to comments with an idea pin
It's been a quiet month in Pinterest land, with only one update coming through. There is now the option for users to reply to a comment with an idea pin. This feature is like Reel replies on Instagram and video replies on TikTok. These types of replies allow creators to give more context to their responses.
Given the increasing engagement with short-form video, it makes sense for Pinterest to align with the trend and provide more ways for people to use video for engagement and interaction wherever they can.
LinkedIn 
New tools to 'Creator Mode'
LinkedIn has beefed up its features and added access to LinkedIn Live and Newsletters in Creator Mode. Members with Creator Mode will be able to
Although it's been relatively quiet on the social media updates this month, 2022 is shaping up to be a big year of constantly evolving features to elevate your business profiles. Whether it's needing assistance with your social media strategy or navigating your way through the new features, the team at Oraco is always here to help! Send us an email or DM today,
Missed an episode of Sailing Through Socials? Catch up now.