OPINION PIECE
Aussie Swifties, drop everything now!
Taylor Swift is gracing our humble shores next year for seven shows and seven shows only. After sitting in excruciatingly painful Ticketek queues and getting nowhere, I finally secured tickets the *old-fashioned way* i.e. sending a friend to the physical box office while I was at work, screaming instructions at her down the phone.
Yes, I'm one of the lucky few who will witness first-hand with my ears and eyeballs the one some call the Queen of Pop. Don't get me wrong, I'm a day one fan and have seen all of her previous shows, but there is a hype around this one that there hasn't been around any of her other shows.
…Ready for It?
Tay Tay fan or not, I've no doubt your news feed is flooded with people posting about her, people posting about the people posting about her, and so on. There's also been an avalanche of brands catching on to the fact that Taylor's wardrobe is the talk of the town. Sequins, sparkles, tassels, and glitter. Lots of glitter. Concertgoers (including those planning to stand outside the stadium on the night) are already scrambling to find an outfit for their favourite 'era'. Whether it's a classic country look for Fearless, dark and bold for Reputation, or a sequin number for Lover, there's an era for everyone.
View this post on Instagram
View this post on Instagram
I joined all the group chats. I signed up for all the groups. I had lengthy discussions with friends – I was SO excited to find my perfect outfit.
And then I was brought back to earth with a hefty thud.
Talk of fashion brands like Shien and Cider littered every conversation and chat thread. My social media quickly targeted me with outfits perfect for the concert.
I'll admit – I've clicked, and I've browsed. I've even gone as far as adding a few things to my cart before quickly exiting these sites. You see, I desperately want an outfit like this, but now that I know more about these brands, I have a harder time justifying a purchase from here. It certainly doesn't help when I'm the exact target market for these fast fashion brands.
long story short
In case you haven't heard, fast fashion is an increasingly significant issue. Earth.org describes fast fashion as 'a term used to describe cheap and low-quality clothing that is rapidly produced and cycled in and out of the market quickly to meet new trends.' These garments are often low quality, cheap, and sometimes made in unethical circumstances. What do we do when we're done wearing these garments? They end up in landfill, creating a substantial environmental problem as most are not biodegradable.
Some quick facts about fast fashion from Earth.org:
An estimated 92 million tonnes of textile waste is produced annually, which is expected to reach 134 million tonnes by 2030.
The fashion industry accounts for nearly up to 10% of global carbon emissions – more than the aviation and shipping sectors combined.
Nearly 20% of global wastewater, or around 93 billion cubic metres, comes from textile dyeing.
Since 2000, clothing sales have doubled annually from 100 to 200 billion units. Simultaneously, the average number of times an item was worn decreased by 36% overall.
So how does Taylor Swift fit into this? She is one of the many pop stars inadvertently encouraging their fans to consume fast fashion. But it's not just her followers that are scrambling for concert outfits. Fans attending concerts for the likes of Harry Styles and Beyonce have also been scouring the internet for outfit inspo that quickly ends up at the bottom of landfills once these megastars have left the stage.
Call it What You Want
In the scheme of things, the outfits worn for concerts and festivals – essentially single-wear garments can be one of the worst fast fashion offenders of all.
There are a couple of main reasons for this:
Festival outfits are often clothes people buy for one weekend or to fit a specific theme, or even worse, 'just for the 'gram'.
As festival clothing becomes more mainstream, independent designers' ideas are often ripped off and poorly made in cheap materials by wholesalers.
The materials we favour for festival wear, like lycra, sequins, glitter and feathers, aren't planet friendly. They contain lots of plastic which get into our water streams.
Read more about the impact of sequins here.
A TikTok showing the aftermath of a Harry Styles concert. 
Look What You Made Me Do
Despite being aware of the issues surrounding sites like Shien, we're still buying from them. I took to the streets (aka the Facebook groups) to ask where people were sourcing their outfits for the concert.
Here are the results:
Of 324 votes, 106 (32.72%) said they would buy from fast fashion sites like Shien, Cider and Amazon.
66 voters (20.37%) said they would like to shop ethically but are unsure where to go.
59 voters (18.21%) mentioned they would be wearing something they already owned or sourcing something second-hand by hiring an outfit or op-shopping.
60 voters (18.52%) said they would be DIYing their outfits (not mentioning where they would source materials from.
Only 14 voters (4.32%) said they would buy from an ethical brand.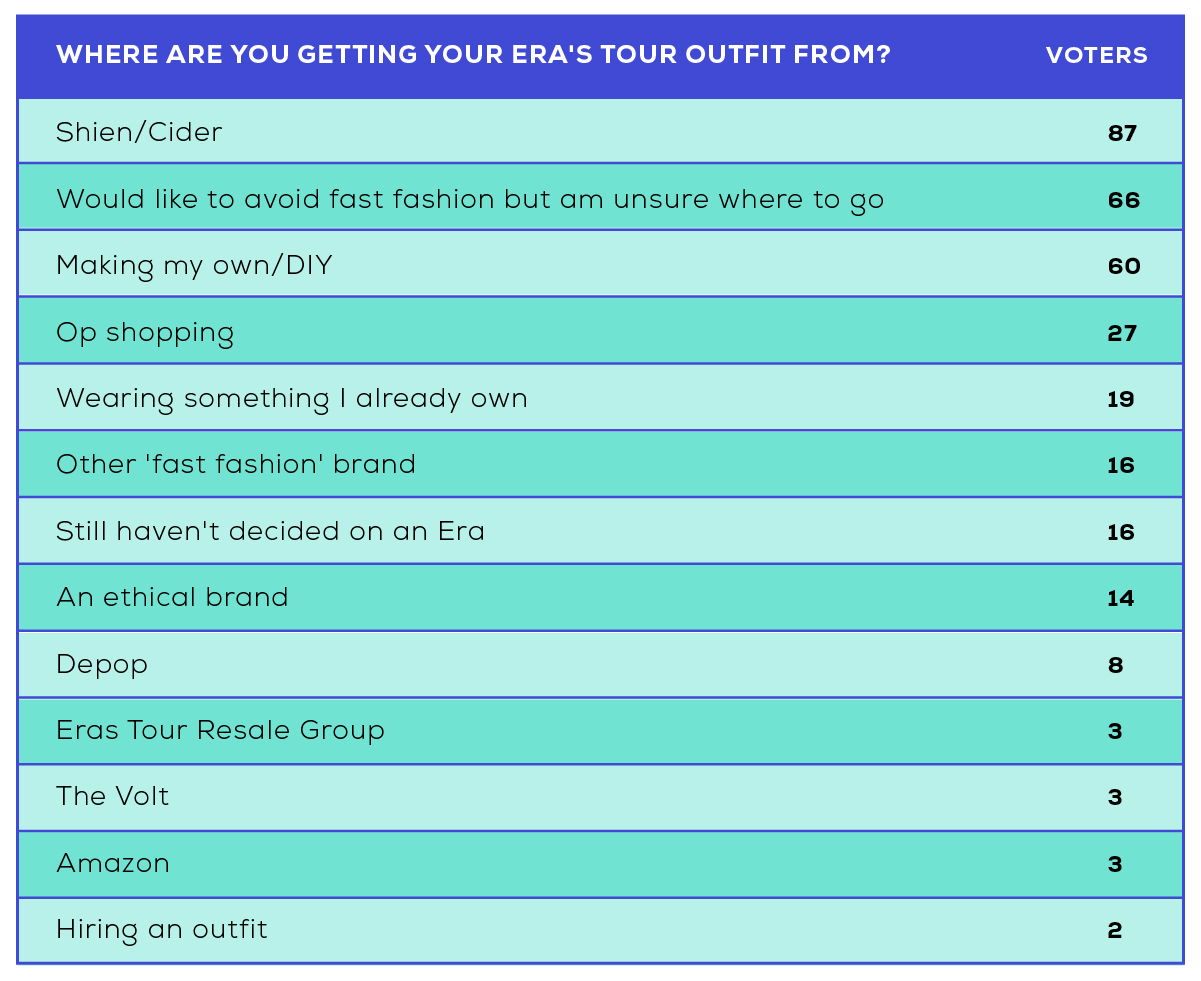 Image: Full breakdown of votes
This is Why We Can't Have Nice Things
It might seem contradictory, but despite Gen Z being at the forefront of the climate change movement, they're leading the way in consuming fast fashion. A ThredUp report on fast fashion and Gen Z found that one in three Gen Z'ers feel addicted to fast fashion. But despite their desire to become more sustainable, there are barriers.
So, if fans know fast fashion sites are bad for the environment, why are we buying from them?
Unfortunately, there's no right answer here.
The Australian Ethical Consumer Report from 2021 presented the following ten responses as the barriers to purchasing ethical clothing: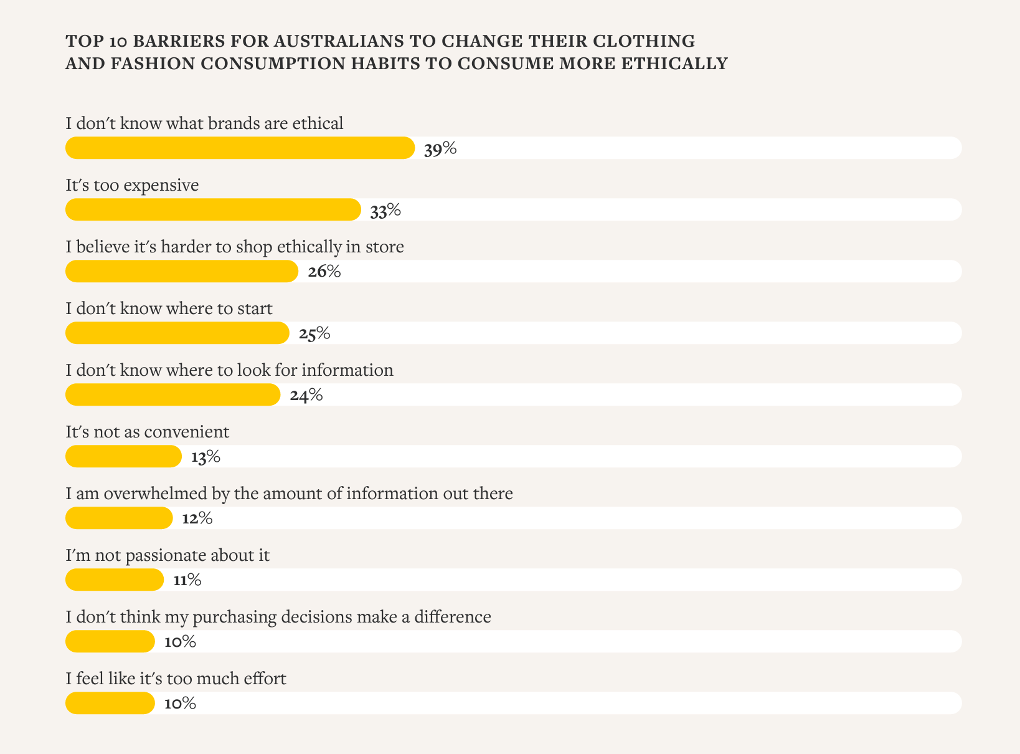 Image source: The Australian Ethical Consumer Report
One significant barrier not present in this data is the difficulty for plus-sized people to shop ethically. Many ethical retailers, unfortunately, aren't catering to this community, meaning consumers are forced to choose between buying something costly (if they can find it) or fast fashion.
However, price proves a significant barrier here with the cost-of-living crisis making fast fashion a lot more appealing.
I Forgot That You Existed
Another significant aspect of the fast fashion crisis and a barrier for their consumers is the people making their clothes. Often, these people are working in less-than-ideal conditions that border on modern slavery.
While we're not trying to be insensitive, our physical and cultural distance from those working in these poor conditions pushes us to an 'out of sight, out of mind' mentality. Although there is awareness of these conditions, research shows an underlying consensus that exploitative practices are an accepted part of the fast-fashion supply chain to ensure the continuation of low-cost clothing. 
End Game
I know this article sounds all doom-and-gloom, but we're not done yet! While some statistics here are alarming, there are still seven months left before Tay Tay arrives on Australian soil – plenty of time to get your concert outfit sorted.
While you may have heard of Maslow's hierarchy of needs, Sarah Lazorovic has introduced us to the 'Buyerarchy' of needs.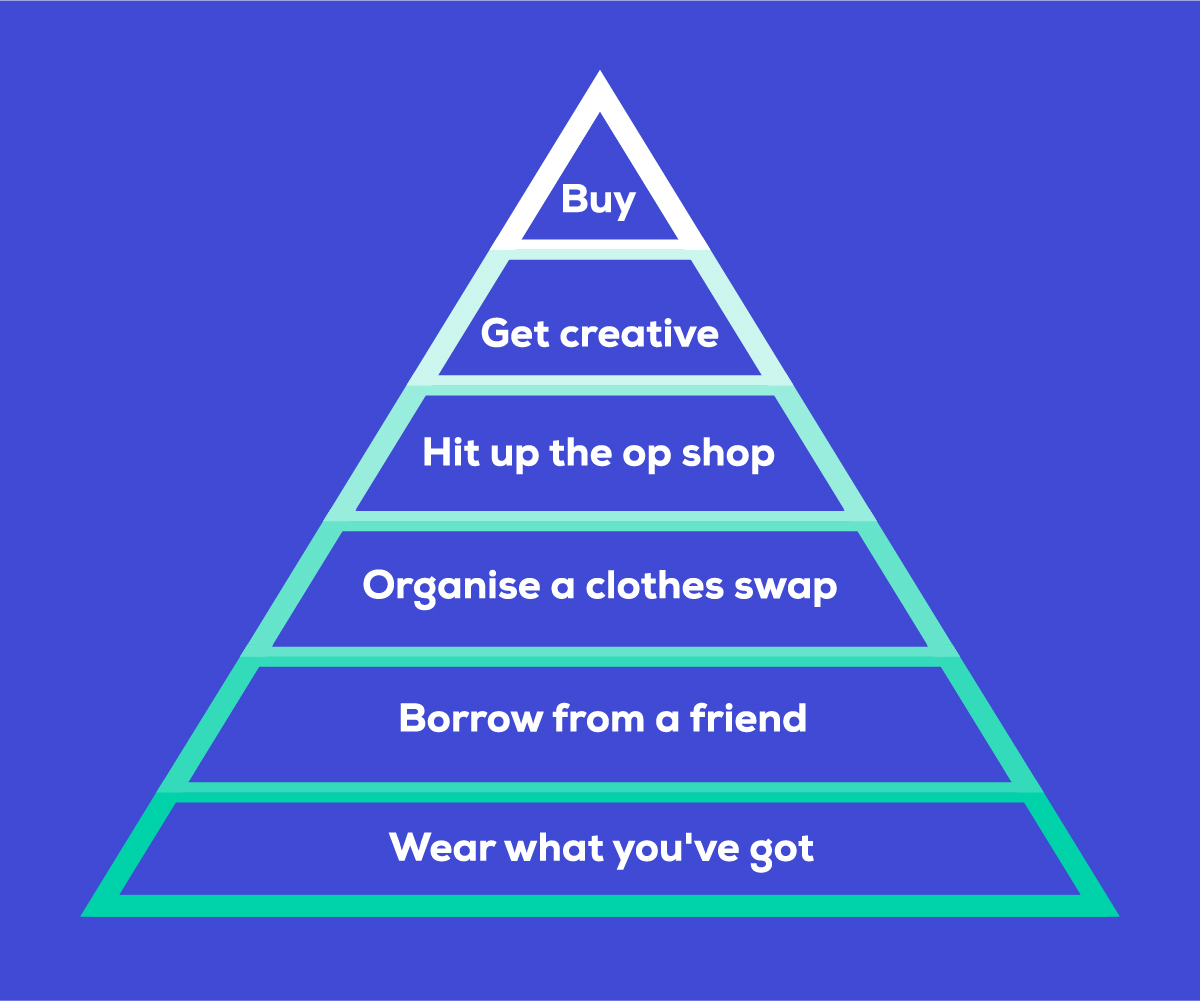 Image: Recreated from Sarah Lazorovic
Let's start from the bottom, shall we?
Wear what you've got
Yes, we hear you. It's not always the most fun option but wearing something you already own doesn't have to be boring. In fact, diving into the forgotten realms of your wardrobe may even help you uncover a top you bought years ago that would work perfectly for the 'Red' era or a pair of boots that would fit nicely for the 'Fearless' era.
Still feel like you've got nothing? Bring your bestie around to raid your wardrobe and see what they can find. Sometimes all you need is a different opinion. 
Borrow from a friend
If that friend can't find something in your wardrobe, why not wear something from theirs? If your friend doesn't have a prior commitment on the night of the concert that sees them wearing their sparkly mini dress, see if you can borrow it for the night? Alternatively, there are plenty of places out there offering to hire their clothes for a fee.
Organise a clothes swap
Something seriously underrated (and my friendship group should do more often) is to organise a clothes swap with your group of friends and see what outfits you can pull together from other people's wardrobes! This is especially fun when you make a day of it. What could be better than drinking wine with your besties, blasting Taylor Swift and swapping clothes?
Hit up your local op shop
It's time to step into the money-spending territory, starting with thrifting. Hit up your local op shop or second-hand market and scour the racks for something you can wear. There are also plenty of second-hand places you can shop online, including Depop, eBay and Facebook Marketplace. 
Get creative!
If you're creative, you can always try DIY or upcycling. Head to Pinterest or Instagram for inspiration on how you can essentially make something out of nothing. If you are making an outfit yourself, ensure you're being mindful of the materials you're using. This includes fabrics you buy and where they come from and trying your best to avoid harmful materials like glitter and sequins.
Don't worry – we're not saying to cut out glitter completely! Retailers such as The Glitter Tribe and Eco Stardust. While there aren't any biodegradable sequins on the market (yet), there are some players in the game such as The Sustainable Sequin Company who are working to make an eco-friendly option.
Buy something new
Before buying from somewhere, it's a good idea to get into the practice of using the Good On You app. This app is excellent for those who want to shop ethically but aren't sure where to start. Not only can check how a shop ranks, but they also provide you with sustainable alternatives if the option you want isn't.
The Best Day 
As February draws closer, the excitement around Queen Taylor's presence is becoming more palpable – what are we all wearing? What mystery songs will we get? Can I hold my bladder for the entire show? And although the stadium is set to be chock-full of fans dressed up, let's all do what we can to ensure when we're screaming the Cruel Summer bridge; it's in an outfit that's not hurting the environment.
For more information on fast fashion, follow Trierra and Oraco on Instagram.