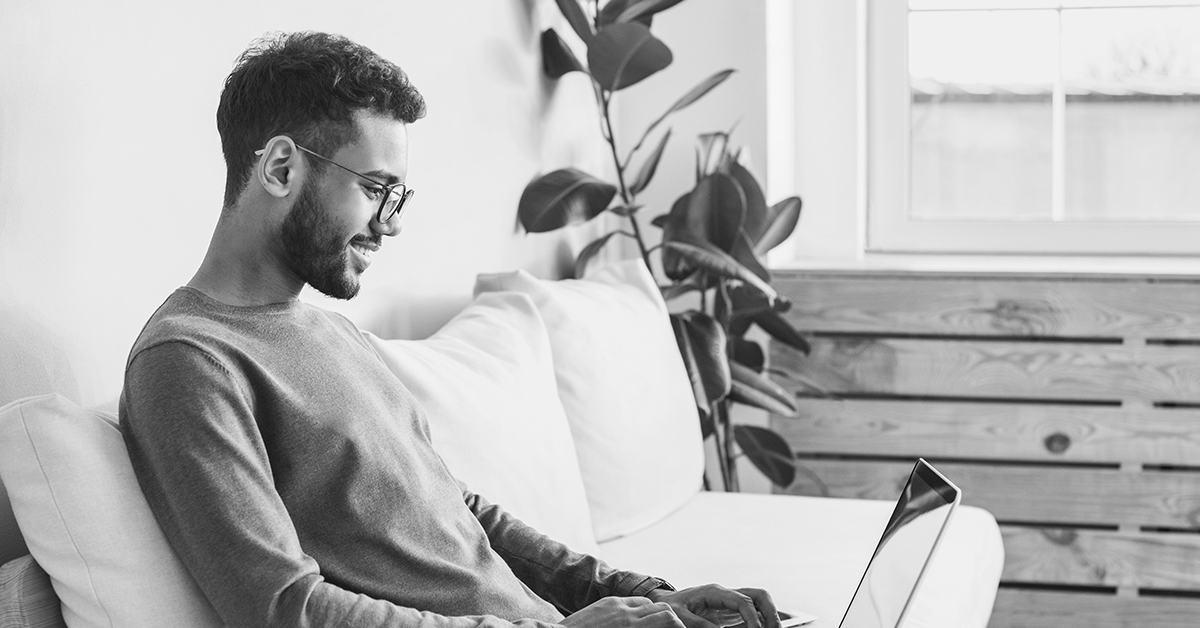 Customer experience is increasingly becoming a priority for businesses large and small. But blending the physical and digital to create a consistent, multi-channel customer experience is often a long way behind. While we traditionally expect a high level of customer service when we interact with people face to face, the same level of customer service is often lacking when it comes to online interactions with businesses.
In 2021, a business rarely has a truly unique offering. Often, people have a range of choices when it comes to who they choose to purchase their goods and services from, which is why creating a positive customer experience is essential.
How do you use customer experience to build brand loyalty?
If you want to create brand loyalty, you need to be prepared to invest in maintaining and elevating your customer experience. It's not enough to provide a one-off positive customer experience. The internet has created a global marketplace and space for people to access unlimited resources and knowledge.
People can easily undertake research with the tap of a button, which means consumers are more informed than ever before and as a result, they are also more demanding of businesses. A Walker study found that at the end of 2020, customer experience will have overtaken price and product as the key brand differentiator.
While price is still a factor, people want quality, they want to know that the business they're purchasing from is ethical, they want the best product or service features, and they want it all in the most convenient, quickest way possible!
For more on this topic, read: Brand Choice: Why Do We Choose One Over Another?
Blending online and offline customer experience
Customer experience also referred to as customer service has long been a focus when transactions are face to face, but the same can't be said for online transactions.
Social media and email to an extent, have opened the communication channels between business and consumer and as a result, consumer demand has increased. According to Hubspot, "63% of social media complaints are responded to within 24 hours, but only 32% of people are happy with their response time. And, while 39% of social media users expect a response within 60 minutes, the average response time for businesses is about five hours."
We haven't even gotten to live chats yet! The point is, if you're online, you need to be aware of your customers' expectations and have a solid plan for how you can deliver.
Ensuring that your customers can move easily from digital research to online or offline purchases is essential in creating a consistent and end-to-end customer experience.
Technology and online tools can also be used in-store to enhance customer experience. For example, providing staff with the technology to look up products quickly, allowing people to purchase with ease. Businesses are increasingly introducing QR codes to link people to their social media accounts. It's also not uncommon for people to provide an email address or phone number when visiting a physical store, with these actions designed for businesses to be able to continue the communication with their clients once they leave their premises.
A quality customer experience can also influence on-the-spot purchasing – as 49% of buyers have made impulse purchases after receiving a more personalised experience.
How can you measure your client's perception of their customer experience?
In our experience, most businesses think they're providing an exceptional customer experience without any evidence from their clients. They assume that their clients are happy and that they're doing a good job, but they often haven't spoken directly with their customers to get genuine feedback. 
While not everyone can afford expensive research, there is a range of affordable options that businesses of all size can use to survey their clients. Here are some of our favourite platforms:
SurveyMonkey: An easy to use, survey tool with a basic free option where you can create surveys with 10 or fewer questions. If you wish to undertake more comprehensive research, there are paid versions you can use.
Typeform: Another easy-to-use tool that enables you to build surveys and forms. There are free and paid versions of the platform.
Instagram polls and Ask me a question sticker: If you want to keep it simple, you can use Instagram's poll feature or even the Ask me a question sticker to generate feedback and responses in an easy and invitational way. You may actually find you get more responses this way as people are more likely to already be on Instagram as opposed to having to view a survey link in their emails and then visit a third-party site and undertake a survey.
Elevating customer experience online through personalisation
When it comes to creating a quality online experience many small businesses feel disadvantaged in comparison to their larger counterparts. However, there are some basic steps a business of any size can take to improve its customer's experience within the online space. We've included our recommendations below:
Personalisation: The increase in a multi-channel approach to customer relations (face-to-face, social media, email marketing, online, etc.) has led to a lack of personalisation and when it comes to customer relations, personalisation is everything.
When a business takes the time to truly understand its customers and tailor its offering, it will undoubtedly experience greater customer satisfaction. We're conditioned to think that providing a personalised service online is harder to achieve than it is in face-to-face interaction, but that's not necessarily the case.
Personalisation can be as simple as:
Addressing clients by name. According to Campaign Monitor, personalised emails improve click-through rates by an average of 14% and conversions by 10%.
Providing content and product or service recommendations you think will genuinely serve a need
Reminders when people are close to running out of a product
Letting people know when a product they purchase frequently is on sale
Make your website and social media accessible
To create the best customer experience, your digital channels need to be easily accessible. There are some simple steps to create a more accessible experience for most of your clients:
Have a search bar on your website so people can easily search for what they are looking for
While sizing can vary from device to device, typically a size of 16pt is generally recommended for body text. You should also be able to zoom in on text. You may also be able to use a font enlarger plugin to provide greater flexibility and accessibility for your customers
Choose your fonts carefully. Cursive fonts can be challenging for the elderly or those with a vision impairment to read
Consider the contrast with your colour choices. Too often, important key messages are lost because the colour contrast isn't high enough
Make sure your website responds so it's accessible on a range of varying screen sizes
If you need help making these changes, contact your website manager or the Oraco team here.
Close the feedback loop  
As mentioned above, surveying your clients can provide valuable information and ideas around your client's experiences and how you might be able to improve them. But surveys are only the beginning. What you do with the information next is where the real value is. Listen to the feedback you receive and act wherever possible. If you're unable to act, try to explain so your clients feel heard.
Consider consistency 
We've touched on consistency about the gap between online and offline, but consistency across all your online channels itself can be a challenge. Two essential areas you should invest in are:
Consistent social media handles: Make it easy for your current and prospective clients to find you by having consistently named social media handles.
Invest in a brand and editorial style guide: In some instances, different people within an organisation will run different channels. For example, you might have one person looking after your email marketing and another looking after your social media accounts. Empower your team with an investment in a brand and editorial style guide – a comprehensive manual designed to ensure everyone who acts on behalf of your brand has a clear roadmap for how they should communicate.
Make it mobile  
When it comes to the online space, it's essential to invest in ensuring your website is mobile responsive. People often browse sites online when they're on the go so it means that your website must be mobile responsive. Test if your website is responsive here.
Empower your clients
People want options. They want to be able to choose how and when they will purchase. Providing options like Afterpay, Click and Collect and Self Service can empower your clients. People often think these services may reduce their opportunity to increase sales and personalise their services, but that's not the case.
Self-serve options provide people with the ability to shop and go at their own pace and people often report they find it quicker and more convenient than waiting to be served by someone. When polled on the Oraco Instagram account, 71% of respondents indicated they would prefer the option to self-serve as opposed to being served by someone else.
Let's talk about Click and Collect. Consumers typically think this is a convenient option and while it might be, research indicates that over 75% of millennials make an additional purchase during in-store pick up.
Invest in a CRM
Make your customer's experience seamless with a customer relationship management (CRM) tool. A CRM can be used by a business to help manage their relationships and interactions with their clients. By using the data, you gather on your customers' interests, purchase history, preferences and more, which can help better tailor your products, marketing, and services to your clients' needs. This will help strengthen your relationship with your customers and aid in the growth of your profits.
While a CRM might sound like an expensive investment, there are free versions around as well as some options like Salesforce for example, which start with a small monthly fee.
Move with the times  
Be aware of and ready to embrace new and exciting opportunities. Things are advancing rapidly as are our expectations as consumers.
In January 2018, Amazon opened its first cashier-less grocery store, Amazon Go in Seattle. You can simply waltz into the shop with the Amazon app on your phone, pick up items and walk out without worrying about checking out or paying. You are then billed via your Amazon account. This experience combines our desire for immediacy and seeing and touching items as well as avoiding the annoyance of having to stand in a queue.
Start now
We've demonstrated the value of investing in your customer experience online and offline. But, if you're to create a truly exceptional experience, it's important to blend your online and offline. To start, first, review your current approach to customer service and see where there is an opportunity to improve. Keep in mind that this isn't a one-off optimisation. As society and technology evolve, so do our expectations of businesses and our experience with them. Customer relations is an ongoing business activity.
If you need support with your customer experience, get in touch. This is a space we really love working within!