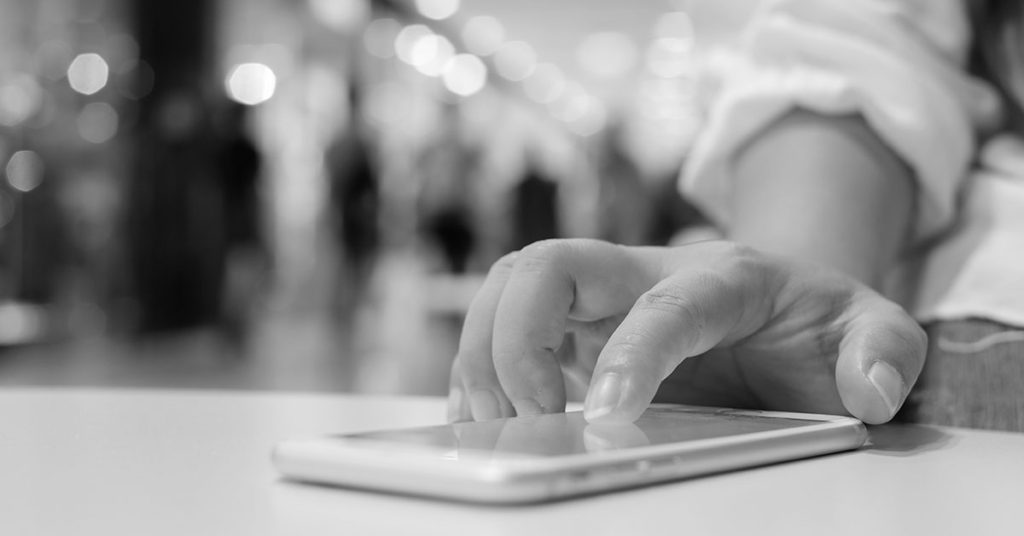 Apple, Privacy, Facebook – trending topics and the basis of a lot of conversation in the advertising space. You may have heard of the modification in Apple's iOS 14 privacy policy, and new app tracking transparency initiative, and its controversial effect on the social giant, Facebook. Furthermore, if you use Facebook for your business, primarily in advertising, then the Apple iOS App Tracking Updates would be cause for concern.
What update?
If you are only joining this conversation now here's what you need to know.
Apple has announced their latest software update including a new app tracking transparency feature, that will grant users the option to opt in or opt out of sharing data within their internal apps.
This means for social apps such as Facebook and Instagram, users can decide to stop sharing critical information that aids social platforms in determining their usage, trends and conversions.
This alert resembles the warning you see when accessing a website with 'cookies' or cookie tracking that was developed in response to the General Data Protection Regulation (GDPR).
To see how to edit this feature see here.
What's the big deal?
User data is used to create targeted audiences for businesses to speak directly to the individuals typically interested in their products or service. Most businesses who advertise via Facebook will see an impact on their targeting, optimisation, conversion rates and reporting, due to the impending reduction in data collection.
According to Statista.com 81% of people only access Facebook via their mobile phone, with only 17.3% using both computers and mobile devices. A mere 1.7% exclusively use a laptop or desktop computer to access the platform.
Considering there will be a large proportion of these users who own an Apple device, we can assume there will be a large focus group of people who can now remove themselves from the data pool. The ability to track events and behaviour will be removed and thus also removing the apps ability to use a remarketing strategy.
However, Apple's personal advertising app seems to have been excluded from this privacy agreement giving them an alternative motive to this controversial development. But that's another story!
Who does this affect?
Apple's app tracking transparency update will significantly change the relationship between users and the apps they use.
The most obvious party impacted is the social giant Facebook, however, under Facebook sits a whole community of businesses that will now be impacted by this change. The social platform has spoken out on behalf of these small businesses as their standpoint for resisting this privacy development. They stated, "Apple's new iOS 14 policy will harm many small businesses that are struggling to stay afloat and on the free internet that we all rely on more than ever."
They would like to encourage their users to continue sharing data for a better user experience with a personalised display and targeted advertisement. As well as to continue supporting the small businesses that use their platform and services to reach their community. In a bid to keep data coming in, they have developed an additional educational screen to inform you what your choice to share determines.
Facebook explains "It provides more details about how we use data for personalized ads, as well as the ways we limit the use of activity other apps and websites send us if people don't turn on this device setting."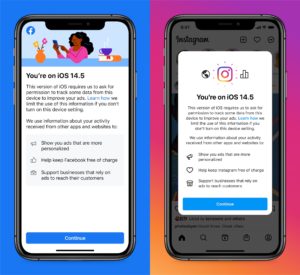 There is also a concern for users who say they will receive much less relevant ad recommendations, leading to an overall decline in user experience. The ads will remain; however, they may not pertain to the user's interests.
What now?
If you are a user of Facebook advertising, you are likely to see changes in the Business Manager interface in the near future. These changes will be required to accommodate the new developments and allow the platform to suit both Android and Apple users.
They will be introducing Aggregated Event Management to employ data tracking without needing to collecting specific, personal data. There is yet to be a clear outline of how this will look but for now, we know Facebook is limiting users to 8 conversion events per domain. The advertiser will be able to highlight which conversion events they wish to track. Thus, providing advertisers with a level of information about the effectiveness of their advertising.
To be informed you can read up on exactly how this change can impact the parameters of your advertising and reporting in detail, see Facebook's summary of impacts here. In the meantime, there are a few things you can also do to be prepared, here is a list of 5 things you can do now.
Furthermore, if you are a user who is a viewer, not a poster then, you now have a decision to allow your data to remain being shared or to keep it private.
What do you think?
In some ways, this movement is a great stride in granting consumers their autonomy again, giving them the option to share their data from internal apps where there was not an option previously. However, this comes as a disadvantage to applications such as Facebook, which use this type of data for advertising and marketing parameters and thus greatly impacting businesses who use these services.
With reduced information these targeting parameters are less effective, thus making advertising campaigns broader and more expensive to those running them.
As always with the digital world, it appears to be one step forward two steps back, we suspect that there will be more updates to come, watch this space!
If you would like support in this transition phase, we would love to contribute to your social media success. Get in touch to see how we can support you.