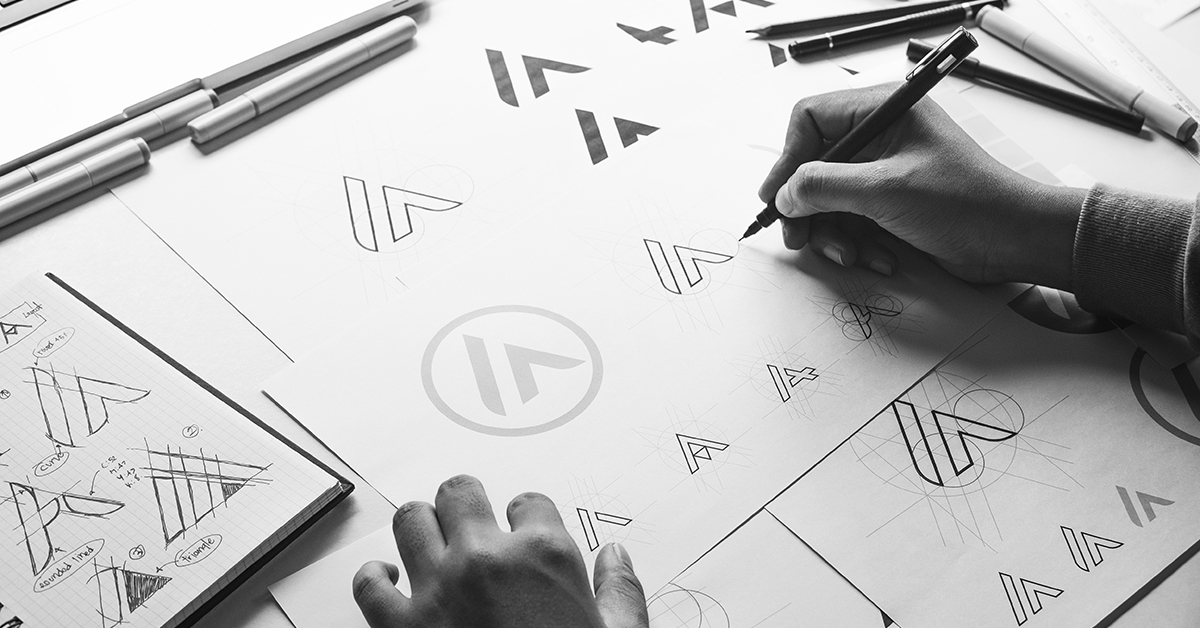 When building a successful business, creating a logo may not be a top priority. However, it's an important aspect of your brand that you should give careful consideration to. Before we tell you why it's important to have a great logo, let's touch on what a logo actually is.
A logo is a visual brand mark. Sometimes it encompasses one or a combination of text, graphics and colour. A good logo can show the audience (your consumer or client) what your company does and should reflect your brand values.
While a logo is only the tip of the iceberg in terms of branding, here are 5 reasons why a logo for your brand is important.
Creating a great first impression
Acting as the 'face of your business,' your logo is the first thing that consumers will see. In the ever-changing, fast-paced world that we live in today, it is vital that you create a strong first impression. The difference between a well-designed logo and a poor-designed logo is catching the eye of your target audience – enough to get them to learn more about your company and what you have to offer. If your logo looks unprofessional, people will question your experience and the quality of products and services you have to offer. How many times have you chosen one company or brand over another, purely because their branding looks more professional?
A logo is the foundation of your brand's identity
Through the design of your logo – using typography, shapes, and colour – you should be able to communicate the tone of voice and personality of your brand. Is your brand elegant, traditional, or perhaps it's more modern? Strong branding provokes an emotional connection with your target audience. You want it to strike interest, promote trust and set the tone for your business. While it's true that a logo is only a small portion of your brand, it's also the foundation to build and communicate your brand's story.
Wondering about the difference between a logo and brand identity? Take a look at our blog. 
Helping you stand out from the competition
One of the most essential reasons for a logo is to give your business a unique graphic symbol that identifies your business and differentiates you from your competition. With great branding, your logo can tell consumers why you are unique and distinguish you from everybody else. You should dare to be different! No matter how good your products or services are, if you don't stand out from your competition there is always going to be a missed opportunity and having the right logo can make a huge difference to your reach.
Brand recognition and loyalty
A recognisable and familiar logo goes a long way towards building brand loyalty. As your brand grows, so does the trust of your consumers. Your logo is going to become more familiar to a wider audience. As your audience grows, so too does the perception that not only are you a trustworthy brand, but you are also accessible in the market. Once you have built the trust of your consumer, they are going to actively seek you out time and time again, and your logo will be the first thing they look for.
Consistency and application 
A logo for your business is far more than just a pretty picture – it should be an eye-catching, emotion-provoking symbol that best represents your brand. Making sure that you have a good quality, well thought out logo that can be applied to any application is key in creating consistency. Getting your brand out there by placing your logo on products and merchandise is another way of ensuring you build a professional, trustworthy impression that lasts. Having a consistent application of your logo is vital for ensuring your business is clearly represented, regardless of where it is applied. This helps build relevance, establishes reputation, and promotes professionalism. If you have successfully developed your logo and brand everything that you do or create will then become associated with the logo and your brand.
Now that we've touched on the importance of having a logo for your business, let's look at three key points to consider when choosing the right logo for you and your business.
1. Originality
When choosing the right logo for your business, it's important to ask yourself if the design is original. Do some research into your industry and see what logo your competitors have. You don't want to fall into the trap of following a trend – the aim is to stand out in the crowd and be different enough to attract attention while also being memorable enough to be recognised later. This leads us to point number two.
2. Simplicity
Many of the best and most memorable logos of all time are the simplest. Take a look at the Nike logo. They have a simple monochromatic swoosh, McDonald's have their golden 'M' or "golden arches" and Apple is, well, an apple! What all these iconic logos have in common is that they're simple graphics with lots of white space, which makes them easy to recognise and remember. Logos are used in a variety of different ways. They must work with different applications and across multiple platforms, so the simpler and bolder your logo is, the better.

3. Versatile
When choosing the right logo, it is important to think about how you plan on using it and where it may be applied. Having a versatile logo is vital when it comes to branding, marketing and application. You could have the most amazing logo with lots of beautiful detail but if it becomes illegible or unrecognisable when applied to small spaces (like a business card) then you must ask yourself if it really is a good logo. Your logo needs to maintain its integrity and serve its purpose no matter the application. But what if you love your amazing logo with beautiful detail? Well, another great way to achieve versatility is with a responsive logo. This is where your logo can be adaptive and have variety in size and complexity to accommodate the application. These are called sub marks. Take the Disney logo for example. It has detail in the logo which would be completely lost if scaled to a smaller size however, the integrity of the brand is not lost when broken down into a variety of sub marks. A general rule of thumb is that your logo should have the ability to be applied to any application with any background colour and still be able to make an impact. 

Having a logo for your business helps you to create a great first impression, promotes brand values, creates brand loyalty and allows you to stand out from your competition. Regardless of how big or small your business is, a logo acts as an important foundation for your company's branding. At Oraco, we are all about building strong brands and would love to help you on your branding journey. Get in touch today to discuss the perfect logo solution for your business.